Business school professor given new purpose after cancer care
DALLAS – Oct. 9, 2019 – Wendy Casper was on a personal and professional high. Within months of her dream destination wedding in Spain, she was promoted from Professor to Associate Dean and Endowed Chair in the College of Business at the University of Texas at Arlington. Life was great. That's until a routine mammogram rocked what felt like a fairy tale.
A doctor in Tarrant County told her, "I hate to do this over the phone, but you have cancer."
Breast cancer. She had no family history of it.
Staff at the first hospital she spoke with pushed for reconstructive breast surgery. She wanted a different approach. People kept recommending Dr. Marilyn Leitch, a highly respected breast surgeon at UT Southwestern's Harold C. Simmons Comprehensive Cancer Center who spearheads one of the nation's leading multidisciplinary groups dedicated to breast cancer evaluation and treatment. Dr. Leitch, a Professor of Surgery, holds the S.T. Harris Family Distinguished Chair in Breast Surgery, in Honor of A. Marilyn Leitch, M.D.
When Ms. Casper arrived for her first visit with Dr. Leitch, she met a fellow breast cancer patient turned survivor.
The woman said her treatment was over, but she came back as a volunteer because she missed the Simmons Cancer Center.
"I thought, 'Well, that's weird. Who would want to go back?' But I get it now. I go over to the Simmons Cancer Center, and I feel comforted," Ms. Casper said.
She feels comforted because the team not only helped her defeat breast cancer, they also made it possible for her to continue the career she spent decades building.
Ms. Casper has a Ph.D. in organizational psychology and studies ways of improving the health and well-being of employees. She never could have foreseen having her own work-life balance put to the test by cancer. That experience has now sparked her interest in studying how cancer patients in outpatient treatment juggle their schedule and cancer care. One in 8 women will develop breast cancer. More than one-third of all patients who receive a cancer diagnosis are of working age.
"The day I came to see [Dr. Leitch], my life changed, and it was like, 'Everything's going to be OK.' My anxiety went way down, and I just felt so much safer. I felt like everything was going to be OK," Ms. Casper said.
She said the doctors and staff focused on her as a person and moved to make her treatment as quick and easy as possible. She also said she felt like a priority when she could hear the scheduler working the phones to advance her appointments.
"She kept saying, 'Escalate, escalate. She's a new diagnosis; she needs to get in right now.' She was on the phone doing that for like 40 minutes, and she got off the phone and had all these appointments for me," Ms. Casper said. "I was just completely overwhelmed with gratitude."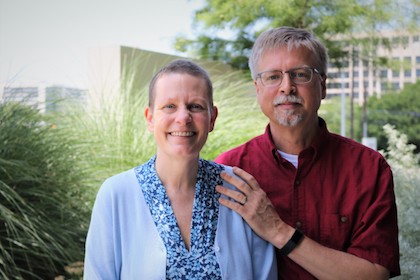 Ms. Casper's husband, Roger Duval, said he also noticed how attentive the entire team was. "They made sure we were introduced to the nurses," he said. "There was just this complete package feeling that we were definitely with competent people who were totally focused on your needs. Every single individual we interacted with has been focused and competent and careful."
Ms. Casper had chemotherapy, radiation, and surgery to treat the cancer. She temporarily lost her hair to chemotherapy, but did not get the mental fogginess of "chemo brain," a side effect that she feared would interfere with her scholarly work as a professor.
"People have just taken care of me in a way that I had never experienced before in the medical system," she said. "It really helped keep my spirit up. I really felt like I had really been cared for as a human being."
That compassionate care from the patient volunteer up to the faculty is now motivating her to pay it forward for others with her research.
About UT Southwestern Medical Center
UT Southwestern, one of the premier academic medical centers in the nation, integrates pioneering biomedical research with exceptional clinical care and education. The institution's faculty has received six Nobel Prizes, and includes 22 members of the National Academy of Sciences, 17 members of the National Academy of Medicine, and 15 Howard Hughes Medical Institute Investigators. The full-time faculty of more than 2,500 is responsible for groundbreaking medical advances and is committed to translating science-driven research quickly to new clinical treatments. UT Southwestern physicians provide care in about 80 specialties to more than 105,000 hospitalized patients, nearly 370,000 emergency room cases, and oversee approximately 3 million outpatient visits a year.