Austin tennis coach wins gold medal after lung transplant
DALLAS – Sept. 26, 2019 – Texas high school teacher and tennis coach Genie Kilpatrick had been competitive and athletic all her life. Suddenly – at age 48 – life served up something unexpected. Out of breath and exhausted, she was shocked when her doctor wouldn't let her leave his office without an oxygen tank.
"It was a dormant disease. I had no idea there was anything wrong with my lungs until I was out of breath on the treadmill and my heart rate was way above normal," Mrs. Kilpatrick said.
She was diagnosed with pulmonary hypertension and managed her disease with medications and breathing treatments. Tennis, running, jogging and biking were off the table, so she set a goal of walking 5 miles a day.
"All the things that I loved were gone. I tried to look at the positive side. I was thankful I could still walk for exercise and I could still teach," she remembered.
Four years later when Mrs. Kilpatrick's condition worsened, she learned her pulmonary hypertension was caused by a rare lung disease called pulmonary capillary hemangiomatosis or PCH, which affects the blood vessels of the lungs and makes breathing difficult.
"This lung disease is a condition that puts a lot of strain on the right side of the heart, and then the heart starts failing," said Dr. Fernando Torres, Professor of Internal Medicine, Medical Director of Lung Transplantation, and Director of the Pulmonary Hypertension Program at UT Southwestern Medical Center in Dallas. "Imagine you're drinking a Coke with a regular straw. With just a little pressure, a lot of Coke comes into your mouth. If you try to drink with a coffee straw instead, you have to apply a lot of pressure with very little result. The same thing happens with the heart. Over time, the heart cannot keep up."
It was time to consider transplantation. The Mayo Clinic, where she had been seeking treatment, knew Dr. Torres and his experienced team at UT Southwestern and recommended them for the double lung transplant.
As one of the top transplantation centers in the U.S., UT Southwestern has performed more than 750 lung transplants. However, this was only the second time the team transplanted a patient who was suffering from PCH since it is exceedingly rare.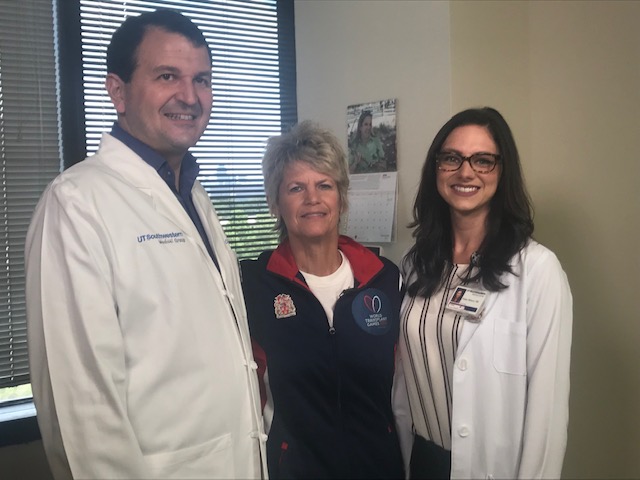 Mrs. Kilpatrick had total confidence in her medical team at UT Southwestern. While on the waitlist for her new lungs, she read about the World Transplant Games and aspired to compete in them. In 2017, she got her first wish and received a new pair of lungs.
"I'm so grateful I got this second chance. I'm only alive because of the selflessness of the organ donor," she said. She now works to spread awareness of the lifesaving importance of organ donation. According to the United Network for Organ Sharing (UNOS), more than 112,000 people in the U.S. are currently on the waitlist for a transplant. The most common type of transplant is kidney, followed by liver, heart, and lung.
In August 2019, Mrs. Kilpatrick finally got her shot at gold. Competing in the World Transplant Games in Newcastle, England, as part of Team USA was a thrill and a victory, in more ways than one. She won a gold medal in women's tennis – and she won back what she loved doing most.
Now retired from teaching and coaching, Mrs. Kilpatrick enjoys traveling and helping her wife of 17 years, Sheri, run her tennis products company. She plans to continue competing at the World Transplant Games, already on her calendar for 2021 in Houston.
In addition to the main location in Dallas, UT Southwestern has satellite lung transplantation clinics in Tyler, Lubbock, Amarillo, Midland, and El Paso, Texas.
About UT Southwestern Medical Center
UT Southwestern, one of the premier academic medical centers in the nation, integrates pioneering biomedical research with exceptional clinical care and education. The institution's faculty has received six Nobel Prizes, and includes 22 members of the National Academy of Sciences, 17 members of the National Academy of Medicine, and 15 Howard Hughes Medical Institute Investigators. The full-time faculty of more than 2,500 is responsible for groundbreaking medical advances and is committed to translating science-driven research quickly to new clinical treatments. UT Southwestern physicians provide care in about 80 specialties to more than 105,000 hospitalized patients, nearly 370,000 emergency room cases, and oversee approximately 3 million outpatient visits a year.