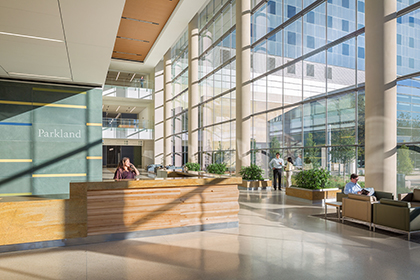 Parkland Hospital has gone through some dramatic changes over the past eight years. The new 2.8 million-square-foot campus broke ground in October of 2010, and was ready for occupation by August of 2015. The new campus is located on the northeast corner of Harry Hines Boulevard and Medical District Drive and is the largest hospital construction project in the United States. Its new 2.1 million-square-foot acute care hospital holds 862 beds and promotes patient comfort with single patient rooms, more space for family and visitors, and large windows.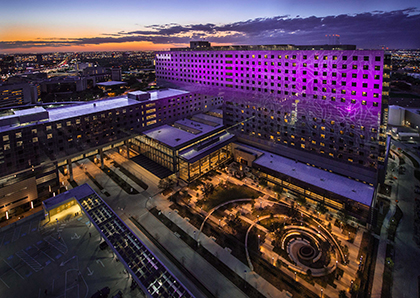 The average operating room size is now almost double that of the previous Parkland Hospital operating rooms, now 620 square feet. The new hospital also includes 27 surgical suites including four shelled suites, twelve ICU beds, 18 burn care unit beds, 83 adult ICU rooms, seven endoscopy suites, and five nuclear medicine rooms.
The design for the new hospital included a number of high-tech features to improve patient care and satisfaction. Touch screen kiosks make for easy patient check-in, smart rooms with smart beds weigh patients and alert staff when a patient with a high risk of falling is about to get out of bed, televisions that link to the nurse call system in every patient room, an RFID security system, high-capability location systems, and a high level of medical device integration.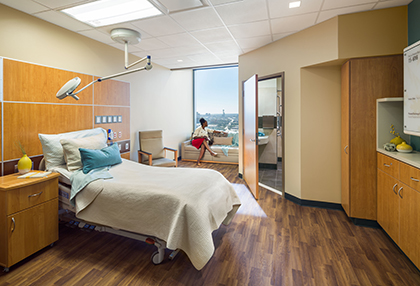 Seventeen floors high with 154 emergency department treatment rooms, the hospital's trauma elevator can travel from the rooftop helipad to the emergency room in 32 seconds.
The new campus also includes a 227,000 square-foot outpatient center, parking for 6,000 vehicles, a central utility plant, and a logistics building.