Researcher Sun receives multiple grants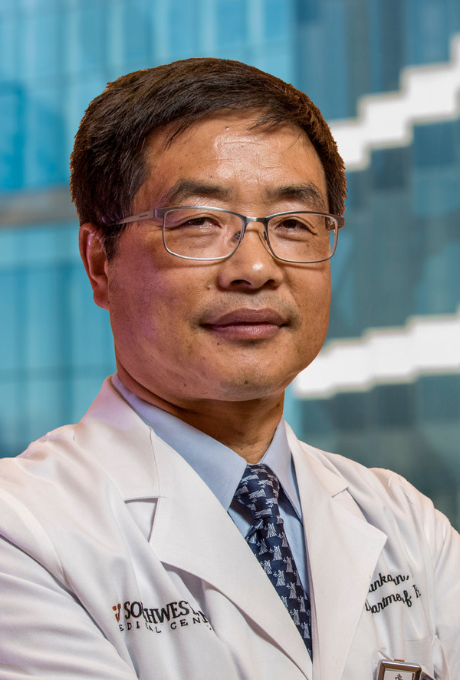 Dr. Xiankai Sun and various colleagues recently received ​five grants totaling more than $2.7 million to support investigations into treatments for prostate, kidney and other types of cancer.​
Dr. Sun is Director of the Cyclotron and Radiochemistry Program at UT Southwestern, and a tenured Associate Professor of Radiology. He holds the Dr. Jack Krohmer Professorship in Radiation Physics. In addition, Dr. Sun co-directs the Preclinical Nuclear Imaging Laboratory with Dr. Orhan K. Öz.
Dr. Sun's expertise is in the design and synthesis of imaging probes and therapeutic agents for various diseases including cancer and diabetes. His funded research projects include the development of biocompatible nanoscale scaffolds to enable multi-presentation of functionalities for detection and intervention of disease states; design and synthesis of bifunctional chelator scaffolds for imaging signal amplification; and preparation of targeted imaging probes for noninvasive assessment of pancreatic beta-cell mass and function.
Dr. Sun obtained his bachelor's degree in chemistry from Wuhan University in China and his doctorate in supramolecular chemistry from the University of New Hampshire. He then received three years of postdoctoral training at Washington University School of Medicine in St. Louis.
He joined the UT Southwestern faculty in 2004.
New Grants
Granting Agency
Investigation
Direct
Prostate Cancer Foundation Challenge Award
"Targeting Neuroendocrine Prostate Cancer with Small Molecular Drug Conjugates"

$1,000,000
2 years

Department of Defense
"Pre-targeting Approach for the Development of Theranostic Agents for Neuroendocrine Prostate Cancer"

$600,000
3 years

Department of Defense
"Immune Checkpoint Targeted Immuno-PET to Identify Therapy-Induced Adaptive Resistance"

$600,000
3 years

Department of Defense
"Targeted Proinflammatory Prodrugs for the Immunotherapy of Kidney Cancer"

$362,000
3 years

UTSW Developmental Funds for Clinical Oncology Trials
"Development and Clinical Evaluation of a Novel PET Tracer to Improve Prediction of Response to Investigational HIF-2 Targeted Therapies"

$199,316
2 years