Residents elect new leaders for 2020
Physicians in the Diagnostic Radiology Residency training program have selected Dr. Akshita Mehta and Dr. Lee Morris III to serve as Chief Residents, and Dr. Paola Matheus to serve as Junior Chief Resident through March 2021. Each of them have distinguished themselves as teachers and role models, with strong educational and administrative skills.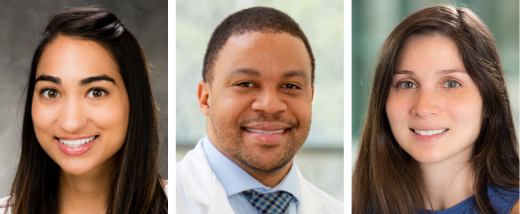 Dr. Mehta is originally from Gaithersburg, Maryland. She received a bachelor's degree in cellular biology and molecular sciences from the University of Maryland College Park, and then attended medical school at Goerge Washington University in Gaithersburg. During her free time, she enjoys traveling, exercising, and photography.
Originally from Orlando, Florida, Dr. Morris received a bachelor's degree in biochemistry from Claflin University in Orangeburg, South Carolina, before obtaining his medical degree from the Medical University of South Carolina in Charleston. A self-professed foodie, Dr. Morris lifts weights and listens to music during his free time.
Dr. Matheus, a native of Venezuela, received a bachelor's degree in kinesiology and exercise science from the University of Texas at Austin before obtaining her medical degree from Baylor College of Medicine in Houston. During her free time, she enjoys watching movies and working out.