Neuroradiology fellows receive comprehensive training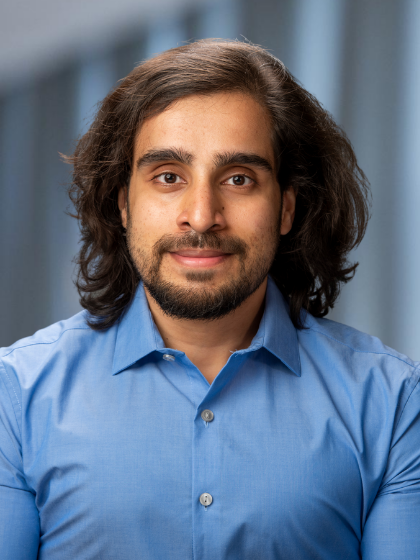 Mustafa Alhasan, M.B.B.S., may be new to neuroradiology fellowship training, but he's already experienced enough to know he made the right choice in selecting UT Southwestern.
"The sheer volume of cases we have is massive," he says. "The best way to learn is by being involved in more and more cases, and then being involved in some more."
Each year, faculty and staff in the Neuroradiology Division use the latest neuroimaging technologies to provide safe, quality, innovative care to thousands of patients. Fellows in the one-year Neuroradiology Fellowship program work closely with the faculty, who are recognized leaders in the field, and experience a range of clinical services, including head and neck radiology, spine imaging and interventions, neuroangiography, and pediatric neuroradiology.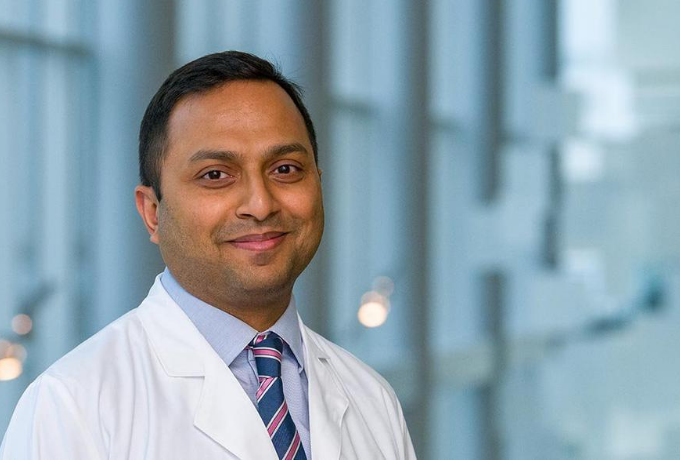 "The combination of distinguished senior faculty and enthusiastic fellows provides great opportunities for mentorship," says Amit Agarwal, M.D., director of the neuroradiology and advanced neuroradiology fellowship programs. "Fellows in this program receive high-quality training that covers the gamut of neuroimaging from A to Z. There is also autonomy with numerous multidisciplinary meetings and teaching conferences run by the fellows."
The combination of distinguished senior faculty and enthusiastic fellows provides great opportunities for mentorship.
Accredited by the Accreditation Council for Graduate Medical Education (ACGME), the fellowship program's mission is to provide educational opportunities through innovative teaching, clinical training, and exposure to research, quality, and leadership initiatives. Fellows serve monthly rotations at Parkland Memorial Hospital, William P. Clements Jr. University Hospital, Children's Medical Center Dallas, Rogers Magnetic Resonance Imaging Center, and Meadows Diagnostic Imaging Center, regularly interacting with radiologic physicists and neuroendovascular specialists who have expertise in neurosurgery and neurology.
One afternoon per week, fellows receive academic time free of clinical responsibilities. Academic productivity is encouraged, and it's expected that at least one academic or research project will emanate from a fellow's experience suitable for presentation or publication. Intellectual vibrancy and technological innovation are core values of the Department of Radiology and multiple opportunities are available for collaboration with faculty in every subspecialty.
Graduates of the fellowship program are prepared for both independent practice and subspecialty CAQ certification through the American Board of Radiology. Fellows who choose to receive a second year advanced training become Instructors in the Radiology Department and function as junior faculty members under the continued guidance of senior faculty. Further subspecialization opportunities are available in a variety of areas, including pediatric, spine, head and neck, and MRI.
"I am so fortunate that I'll get to stay here next year for pediatric neuroradiology fellowship training," Dr. Alhasan says. "I chose UT Southwestern because the quality of training makes the neuroradiology fellowship program among the best in the nation."
The strong collaborations between faculty and fellows ensures those who complete the fellowship program enter the next phase of their careers as extremely proficient neuroradiologists.
About UT Southwestern Medical Center
UT Southwestern, one of the premier academic medical centers in the nation, integrates pioneering biomedical research with exceptional clinical care and education. The institution's faculty has received six Nobel Prizes, and includes 24 members of the National Academy of Sciences, 16 members of the National Academy of Medicine, and 13 Howard Hughes Medical Institute Investigators. The full-time faculty of more than 2,500 is responsible for groundbreaking medical advances and is committed to translating science-driven research quickly to new clinical treatments. UT Southwestern physicians provide care in about 80 specialties to more than 105,000 hospitalized patients, nearly 370,000 emergency room cases, and oversee approximately 3 million outpatient visits a year.
About the Department of Radiology
As a leading academic radiology department, UT Southwestern Radiology integrates pioneering research with exceptional clinical care and education. The department has more than 135 board-certified, clinical imaging generalists and specialists who are known for their expertise, providing more than 1.1 million reports annually. The department's 30-plus research faculty work in collaboration with clinical and basic science departments throughout the campus. Every year, 14 fellowship programs and four residency programs specific to the department provide training opportunities for up to 111 physicians and researchers to collaborate and further understand imaging sciences. Moreover, 260 students take elective Radiolog​y courses in partnership with the medical school.