Longtime faculty member Wally Hooser dies at 75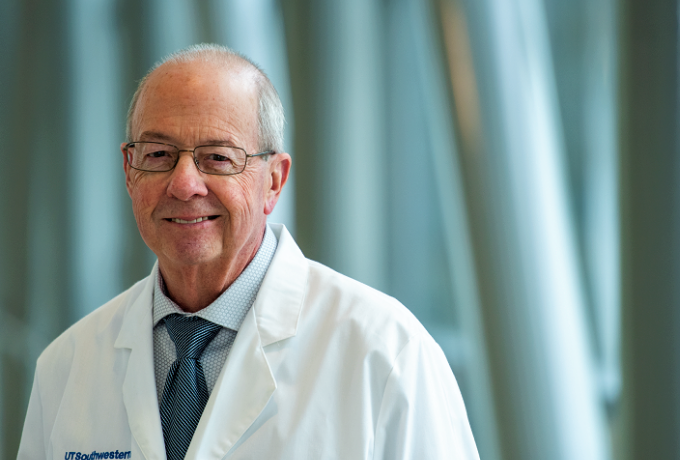 Dr. Clifton Wallace "Wally" Hooser, an Assistant Professor in the Cardiothoracic Imaging Division, died on January 5 in Dallas. He was 75.
Dr. Hooser joined the UT Southwestern faculty in 2003 as an Assistant Professor, following a 25-year radiology practice in Tulsa, Oklahoma. In 2010, he was promoted to Associate Professor. He retired in 2016, but was recruited by Dr. Suhny Abbara, Chief of Cardiothoracic Imaging, to rejoin the faculty in 2020 as a part-time Assistant Professor.
He began his teaching career as a Clinical Assistant Professor at the University of Oklahoma – Tulsa Medical College in 1978. He was promoted to Clinical Associate Professor in 1986, and Clinical Professor in 1993. Over the course of more than two decades in Tulsa, he oversaw a major portion of the Radiology Consultants of Tulsa practice, serving as Medical Supervisor of Nuclear Medicine, Ultrasound and MRI at Saint Francis Hospital.
A career marked by service
Dr. Hooser was a member of the Board of Directors of Tulsa County Medical Society for 12 years, serving as its president in 1999. He also was a member of the Board of Trustees for the Oklahoma Medical Association, serving two years as the organization's co-chair. He served as the Mayor-appointed representative on the Employee Benefits Committee for 12 years through three administrations, and, in the early 1990s, was appointed by the governor of Oklahoma to the state's Commission for Healthcare Reform.
In 1996, in recognition of his distinguished career, Dr. Hooser was inducted as a Fellow of the American College of Radiology.
"Wally was also a dedicated philanthropist, helping fund hospitals, schools, children's nonprofit organizations, and scholarships. He served on the board of the Research and Education Foundation of the Association of University Radiologists, and also on the boards of various health insurance companies. At the time of his death, Wally remained active in the M.R. & Evelyn Hudson Foundation, having served the organization as its Chair Emeritus and as Finance Committee Chair. The Hudson Foundation has been a generous benefactor of our Department, UT Southwestern Medical School and Parkland Hospital," said Dr. Neil M. Rofsky, Professor and Chair of Radiology. Dr. Rofsky holds the Effie and Wofford Cain Distinguished Chair in Diagnostic Imaging.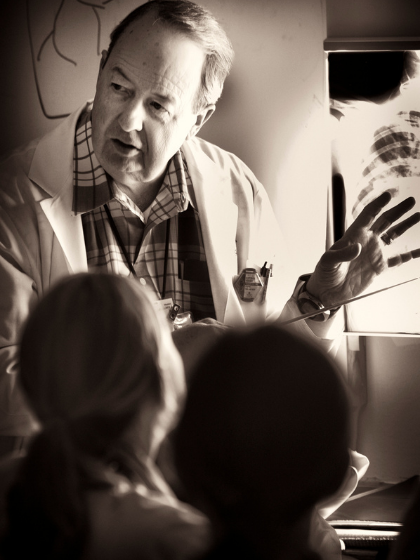 When UT Southwestern Radiology observed its 60th anniversary, Dr. Hooser agreed to be interviewed for Vision 60, the commemorative history book. In it, he reflected on the start of his long career:
"When Dr. [Jack] Reynolds decided to retire, he asked me to take over teaching medical students. He remembered me as a resident and that I loved to learn and teach. I actually almost didn't become a radiologist because, as a young man, I developed an autoimmune disease. It forced me to retire early from the Army Medical Corps and many resident programs simply wouldn't take me because they weren't sure I'd live long enough to finish. Then the people at UT Southwestern told me they thought I'd make a great resident and accepted me. Dr. Reynolds had a part in that."
Brief but influential military service
Born in Dallas on February 6, 1945 to Orville and Leta (Dinkins) Hooser, he obtained a bachelor's degree in zoology from the University of Texas at Austin in 1967. He then received his medical degree from Baylor College of Medicine in 1971. While he was in his last year of medical school, he and his brother volunteered for military service during the Vietnam war. After graduating, he performed a two-year internship at Tripler Army Medical Center in Honolulu, which received constant medical evacuees from the war zone. Although he was medically discharged, he remained in the Army Reserves for many years.
He chose to enter the Army because his family had a record of Army service that dated to the French and Indian War. Five Hooser ancestors served in the Revolutionary War.
"My family valued patriotism and shared a lot of stories about our relatives who had served in the military and the opportunities our country afforded us," he once said. "It shaped my outlook in a very positive way."
Upon completing radiology residency training at UT Southwestern in 1975, he headed west to the University of California – San Diego, to receive advanced training in Nuclear Medicine. In 1984, he completed an MRI fellowship at the University of California – San Francisco.
A commitment to the cosmos
Dr. Hooser was also a lifelong space enthusiast. In 1980, he joined the fledgling Planetary Society, founded the year before by Carl Sagan, Bruce Murray, and Louis Friedman to advance planetary exploration, planetary defense, and the search for life beyond Earth. In 2012, he became a member of the organization's Board of Directors, serving as its secretary until his death. A brief video produced by the society for its 2018 fundraising campaign featured Dr. Hooser explaining why he supported the organization.
He married Bobbie Jean Armstrong in 1965. She survives him.
"Dr. Hooser's enduring legacy will be fondly remembered by his many colleagues in Texas and Oklahoma, the generations of medical students who benefited from his genial mentoring, and all who benefitted from his philanthropic work," Dr. Rofsky said.