Breast Imaging Fellowship program emphasizes patient-centered care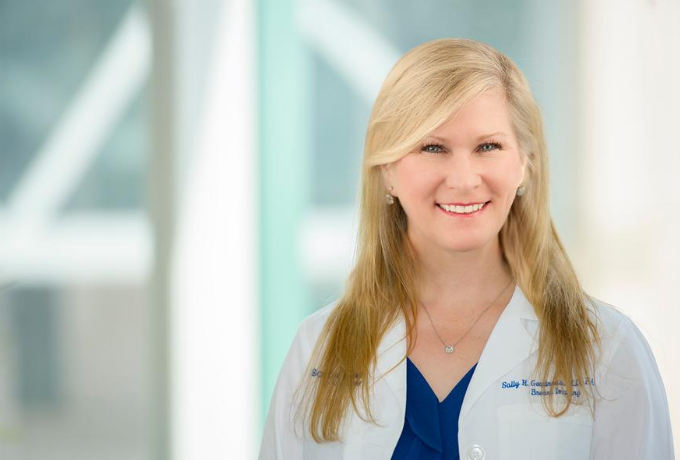 Radiologists who are involved in breast imaging will tell you that your ability to succeed in helping patients has a lot to do with your passion for breast imaging, which involves close patient interactions. That's what attracted Sally Goudreau, M.D., to the specialty.
"To me it's not only a passion but a calling," she says. "As breast imagers, we have the opportunity to develop very strong long-lasting relationships with our patients, with the goal of helping them to do well for years to come."
As director of UT Southwestern's Breast Imaging Fellowship program, Dr. Goudreau is also committed to seeing trainees do well for years to come.
"Fellows who come to UT Southwestern benefit from significant interaction with radiologists who have expertise in all aspects of breast imaging," she says. "Plus, they can access some of the best clinical resources that can only be found at a major medical center."
Training in a collegial learning environment appealed to Lena Omar, M.D., who successfully completed the Breast Imaging Fellowship program before joining the faculty at UT Southwestern.
"UT Southwestern is unique because its expansive patient population gives breast imagers an opportunity to diagnose both common and rare diseases," Dr. Omar says. "I chose to train here because I knew I would be exposed to a broad range of pathology."
Fellows in the Breast Imaging program learn an array of imaging and treatment techniques, including screening and diagnostic mammography, tomosynthesis, high-resolution breast ultrasound, ductography, image-guided core and vacuum-assisted needle biopsy, breast lesion localization using wires or radioactive seeds, breast magnetic resonance imaging (MRI), and positron emission mammography (PEM).
UT Southwestern is unique because its expansive patient population gives breast imagers an opportunity to diagnose both common and rare diseases.
The Breast Imaging Fellowship, approved by the Texas Medical Board, includes clinical rotations at the UT Southwestern Center for Breast Care and the Parkland Comprehensive Breast Center. The Center for Breast Care is part of the Harold C. Simmons Comprehensive Cancer Center, the first and only National Cancer Institute (NCI)-designated Comprehensive Cancer Center in North Texas. A new Center for Breast Care is scheduled to open in 2021.
Throughout the program, Fellows assist in resident and medical student education, consult with referring clinicians, and participate in a monthly journal club to review current literature in the major diagnostic radiology journals. They also are actively involved in a weekly Multidisciplinary Breast Conference. Additionally, Radiology Grand Rounds are held monthly with prestigious visiting and local professors, offering Fellows a chance to learn from leading national authorities on a variety of topics.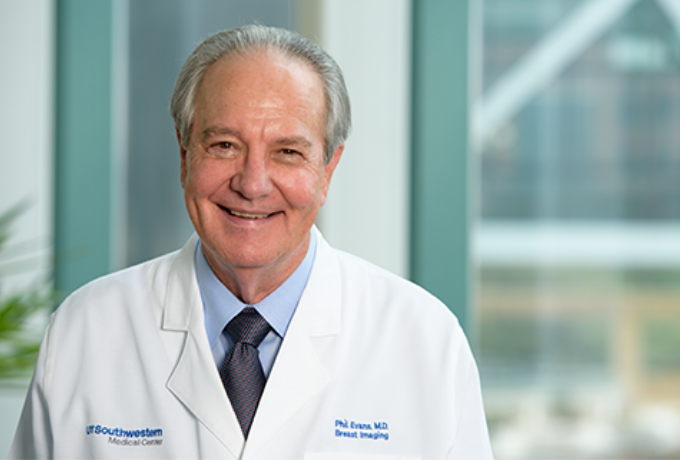 At UT Southwestern, Fellows also have the unique opportunity to train with Phil Evans, M.D., an internationally renowned breast imager and former president of the Society of Breast Imaging and of the American Cancer Society. As chief of Breast Imaging, Dr. Evans has a simple mission: to save lives from breast cancer by using the most effective approaches to early detection, treatment, research, and education. His innovative approach to patient-centered breast imaging has made UT Southwestern a leader in the field.
"When I was doing my training, radiologists didn't have many opportunities to talk with patients," he recalls. "But breast imaging offered an opportunity to go a different way: to talk with patients about their test results immediately after the procedure in a way that they could understand."
Today, the distinctive combination of sophisticated screening techniques and close patient communication that Dr. Evans pioneered is standard operating procedure throughout the world.
About UT Southwestern Medical Center
UT Southwestern, one of the premier academic medical centers in the nation, integrates pioneering biomedical research with exceptional clinical care and education. The institution's faculty has received six Nobel Prizes, and includes 24 members of the National Academy of Sciences, 16 members of the National Academy of Medicine, and 13 Howard Hughes Medical Institute Investigators. The full-time faculty of more than 2,500 is responsible for groundbreaking medical advances and is committed to translating science-driven research quickly to new clinical treatments. UT Southwestern physicians provide care in about 80 specialties to more than 105,000 hospitalized patients, nearly 370,000 emergency room cases, and oversee approximately 3 million outpatient visits a year.
About the Department of Radiology
As a leading academic radiology department, UT Southwestern Radiology integrates pioneering research with exceptional clinical care and education. The department has more than 135 board-certified, clinical imaging generalists and specialists who are known for their expertise, providing more than 1.1 million reports annually. The department's 30-plus research faculty work in collaboration with clinical and basic science departments throughout the campus. Every year, 14 fellowship programs and four residency programs specific to the department provide training opportunities for up to 111 physicians and researchers to collaborate and further understand imaging sciences. Moreover, 260 students take elective Radiolog​y courses in partnership with the medical school.