Cardiothoracic imaging chief Abbara elected president of SCCT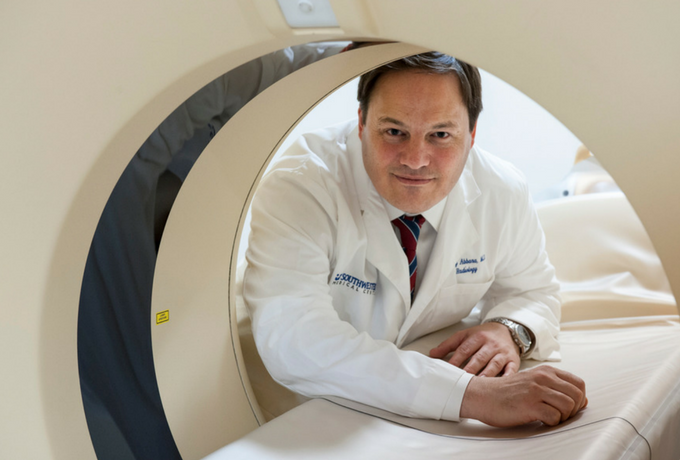 Suhny Abbara, M.D., FACR, has been elected president of the Society of Cardiovascular Computed Tomography (SCCT). Dr. Abbara, professor of Radiology and Chief of Cardiothoracic Imaging, also directs the Cardiothoracic Imaging Fellowship program, and chairs the CT Operations Committee at UT Southwestern.
Dr. Abbara has authored or co-authored more than 250 peer-reviewed publications, four textbooks and several book chapters, with numerous presentations at major scientific conferences and an array of medical and educational institutions worldwide. He is the inaugural editor of the journal, Radiology: Cardiothoracic Imaging, a publication of the Radiological Society of North America (RSNA) that emphasizes advances and technical developments in medical imaging that drive cardiothoracic imaging.
"The future of cardiac imaging in general and cardiac computed tomography in particular will be very different from the previous decade," Dr. Abbara said. "There has been a massive amount of increasing evidence produced by SCCT members over the past years, supporting substantially more widespread utilization of cardiac CT. We now have strong evidence that increased adaptation of strategies that include cardiac CT will save large numbers of lives and improve patient outcomes."
"The excitement that was palpable during the SCCT annual scientific meeting in Dallas this July and its impact was reflected in the unprecedented social media attention the conference received," he continued. "There were more than 16.5 million Twitter impressions of the meeting hashtag, #SCCT2018."
Dr. Abbara has been an active member of the SCCT, having previously served as vice president of the organization. In addition to representing the professional interests of its members, which includes physicians, scientists and technologists from more than 60 countries, the SCCT advocates for research, education and clinical excellence in the use of cardiovascular computed tomography.
Among Dr. Abbara's many awards and achievements, he has received the Editor's Recognition Award from RadioGraphics, Volunteer Service Award from the American Board of Radiology, and the RSNA Honored Educator Award, which is presented to individuals invested in furthering the profession of medical imaging by delivering high-quality content in their field of study.
At UT Southwestern, Dr. Abbara focuses his research on cardiac CT and MRI, spectral CT, lung cancer screening and early detection, and the identification of imaging biomarkers to predict the outcomes of post-surgical procedures.