Schedule and Locations
The fourth year is where you will consolidate your skills, pursue your specific interests and passions, and begin to develop specific expertise.
Consultant-Liaison Psychiatry
Duration: 2 months
Location: Parkland Hospital
Call expectations: Weekend and home call.
The Consult-Liaison Psychiatry Service is a collaborative and multidisciplinary team that includes attending psychiatrists, attending psychologists, psychiatry second- and fourth-year residents, third-year medical students, and psychology doctoral interns. Residents will provide evaluations, medication recommendations, psycho-education, and psychotherapy under the supervision of an attending psychiatrist. This rotation includes weekly conferences and daily interdisciplinary rounds.
Electives
Duration: 10 months
Location: Depends on electives chosen
Call expectations: Minimal or none.
See our elective listing.
Psychotherapy
Duration: 12 months minimum
Location: UT Southwestern Psychotherapy Clinic
Call expectations: Residents are expected to follow up on patient calls and be available for patient questions, refills, or crises.
The resident will provide a variety of psychotherapeutic approaches in a longitudinal outpatient setting, including cognitive-behavioral therapy, psychodynamic therapy, brief psychotherapy, and supportive psychotherapy. Residents with full licenses may also use combined psychopharmacologic approaches. All trainees will have supervision tailored to the modality chosen for their patient.
Senior Project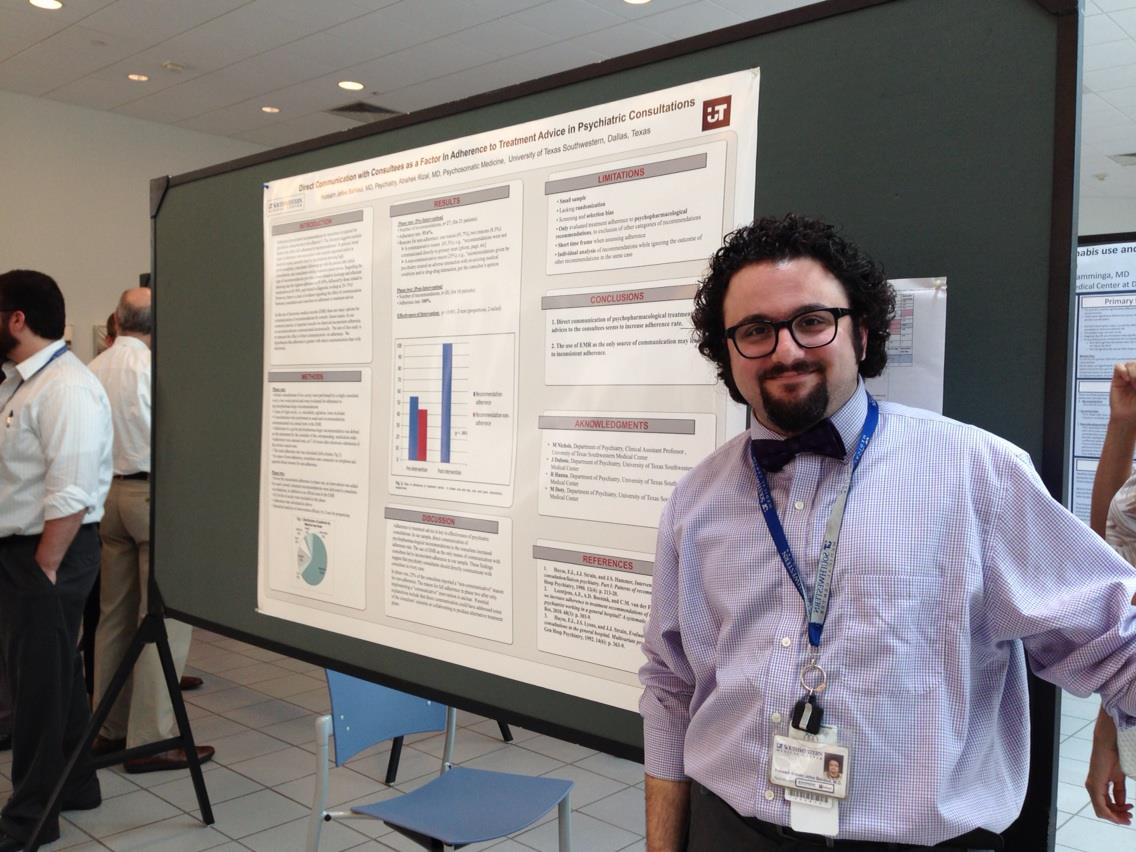 Residents are mentored in a senior scholarly project that is presented at the Residents Poster Day at the end of the year. The purpose of the project is to prepare you to be comfortable establishing and presenting your expertise in your chosen areas of psychiatry. Senior projects can be built around a research project, quality improvement project, or scholarly review.
What You Will Learn
You will attend a continuous case conference and a selective series of advanced psychiatry seminars, which is revised each year in consultation with the residents. Having covered all of the requirements, the coordinator will provide you with a list of "areas of faculty expertise that you didn't know about," and your class will together design your own syllabus. In addition, you will attend a series of seminars on career direction, job searching, negotiating, leadership, and management; prepare for various career paths; review neurology; and receive an overview of general psychiatry to help you prepare for board exams.
Balance and Diversity
Two months of consultation-liaison psychiatry is required in the fourth year. On the Consult-Liaison Service, you will learn to integrate your knowledge of biopsychosocial medicine by consulting and collaborating with your non-psychiatric physician colleagues in a general hospital.
The remainder of the year involves a broad range of clinical, administrative, teaching, and research electives, including the formal Resident Research Track. Popular electives:
Forensic psychiatry
ACT team
Chemical addictions
ECT
Autism Clinic
Geriatric psychiatry
Philosophy of Psychiatry and Medical Ethics
Special topics in Psychiatry, reading elective
Research opportunities
Eating Disorders Unit
Opportunities
Psychotherapy cases and supervision continue throughout your fourth year. You will have opportunities to pursue further training in more specialized forms of psychotherapy such as cognitive-behavior therapy, interpersonal therapy, family therapy, and dialectical behavior therapy. You may also elect to begin formal psychoanalytic training at the Dallas Psychoanalytic Center.