Fellowship Program Structure
The Geriatrics Medicine Fellowship Program is designed so that each fellow has the opportunity to achieve the knowledge, professional attitudes, and practical experience required of a physician caring for the elderly patient. Each fellow will be closely supervised by trained faculty during the year-long fellowship.
Fellows will gain experience teaching nurses, allied health personnel, medical students, and residents in both a formal and an informal setting. Close association with Physical Medicine and Rehabilitation, Neurology, and Geropsychiatry accredited training programs at UT Southwestern give geriatrics fellows an unparalleled opportunity to round out their training.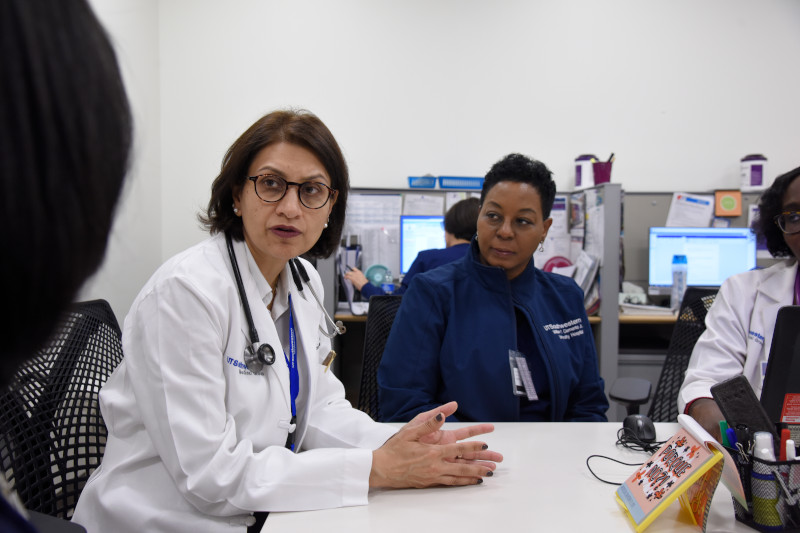 Throughout the year, fellows will treat elderly patients with a variety of chronic illnesses. They will see patients in an acute-care hospital (William P. Clements University Hospital), in a long-term care institution (Dallas Veterans Affairs Medical Center), in an ambulatory care setting (various outpatient clinics).
Longitudinal clinical experience with patients is an integral part of the program. At the beginning of the fellowship year, fellows will rotate at
Dallas VA Medical Center, where they will be assigned nursing home patients for whom they will have primary responsibility throughout the ensuing year. These patients will be chosen with respect to medical, ethnic, and social diversity to ensure a well-rounded experience.
UT Southwestern Medical Center and Parkland Geriatric Clinic home based primary care patients, where they will be assigned patients, they will follow throughout the year
UT Southwestern Medical Center Geriatric Care Clinic (GCC), where they will be assigned a panel of office-based practice patients to follow all around the year
In addition, throughout the year fellows will rotate in one-month blocks in the following services:
Acute inpatient and consult service

VA Nursing home at their Community Living Center (CLC)

Geropsychiatry
Neurology
Palliative care and ethics
Two elective rotations
On the educational front, fellows attend an eight-week core lecture series that covers key topics from normal aging processes and geriatric syndromes, to health maintenance, to the molecular basis of aging. Speakers are drawn from the Geriatrics faculty, Internal Medicine faculty, basic science researchers and allied healthcare professionals. Throughout the year, fellows attend a monthly journal club, as well as the weekly Geriatrics Grand Rounds series.