Human Metabolism in Vivo at 7 Tesla
Drs. Dean Sherry and Craig Malloy have been developing stable isotope and NMR methods to trace metabolism in animals for nearly 30 years. With the addition of a dedicated 7T research scanner to the Advanced Imaging Research Center (AIRC), our focus is on application of 13C, 1H, and 31P NMR methods to monitor metabolism in human diseases such as cancer and diabetes.
High-Energy Phosphates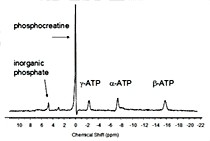 High-energy phosphates such as ATP and phosphocreatine play a central role in metabolism of all tissues. These metabolites are easily detected by a 31P NMR spectrum at 7T, shown here.
Effects of Exercise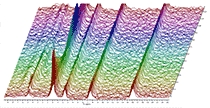 The effects of exercise in the human forearm are shown to the left as a function of time. Phosphocreatine drops rapidly with exercise but [ATP] remains relatively fixed. Inorganic phosphate accumulates and a small shift in the resonance frequency of phosphate allows calculation of intracellular pH.
Human Fat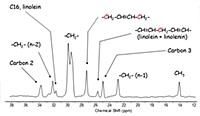 Human fat is a complex mixture of triglycerides of various chain lengths and degree of saturation. Since fat turns over slowly the chemical composition is a direct readout of dietary fats for the preceding 18–24 months. High-resolution 13C NMR spectroscopy allows noninvasive analysis of fat composition anywhere in the body. A spectrum from subcutaneous fat of the calf is shown to the left.
Spatially Localized High Resolution 1H NMR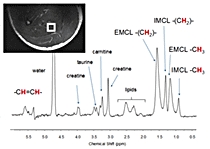 Spatially localized high resolution 1H NMR allows separate identification of intracellular and extracellular fats. Water-soluble metabolites are also identified. This spectrum was acquired from a ~ 1 x 1 x 1 cm voxel in the soleus muscle. Signals due to intracellular (IMCL) and extracellular (EMCL) methyl signals from lipids are easily resolved. The intracellular concentration of taurine, carnitine and creatine may also be estimated.
Learn how to get started on a new 7T Project.