Biomedical engineers utilize engineering principles and quantitative science to uncover new biological phenomena, understand human health, and improve treatment outcomes.
Overview of BME
Pioneering Partnership
UT Southwestern Medical Center partnered with UT Arlington in 1974 to establish the first Ph.D. biomedical engineering (BME) program in Texas. This pioneering effort, coupled with the extensive collaboration with the engineering school at UT Dallas, has enabled UT Southwestern to sustain a vibrant and highly sought-after graduate BME program.
Excellence & Innovation
UT Southwestern established the Department of Biomedical Engineering in 2021 with the mission to drive programmatic integration in biomedical engineering and address emerging clinical and scientific challenges in medicine and biology using innovative technologies. Anchored by outstanding faculty, motivated trainees, and exceptional clinical and engineering infrastructure, we strive to create innovative systems and methods that will play an active role in transforming the current disease care system into a genuine health care enterprise.
Connections & Collaboration
In addition to serving as a home to core faculty members and students, the Department leverages the expertise of a diverse pool of clinical and basic science investigators in traditional academic departments at UT Southwestern to provide personalized research opportunities for our students and collaborators. Strengthened by the inter-institutional collaboration with UT Dallas and UT Arlington engineering schools, our BME researchers and trainees have full access to traditional engineering faculty and resources.
Degrees
We offer Ph.D. degrees through the Graduate School of Biomedical Sciences and combined M.D./Ph.D. degrees in conjunction with UT Southwestern Medical School.
Current Academic Priorities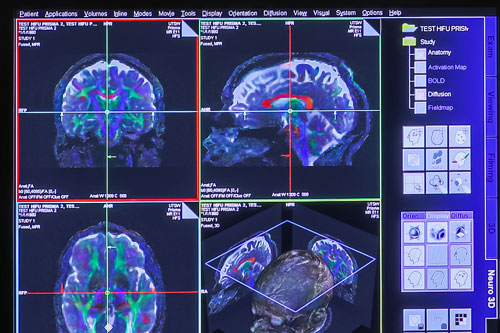 Our investigators are currently engaged in academic inquiries that include imaging across biological scales, brain-machine interfaces, implantable and wearable devices, medical applications of artificial intelligence, portable technologies for point-of-care interventions, tissue engineering, theranostics, and precision medicine. Advancing these disease-agnostic research areas create an environment for collaborative research in brain science, oncology, health disparity, women's health, immunology, and data science.
State-of-the-art BME Building
The Department is temporarily housed in the K2 Building at UT Southwestern. In 2023, it will relocate to the new 150,000 square-foot Texas Instruments Biomedical Engineering and Sciences Building, a joint venture with UT Dallas. Co-localizing faculty members from both institutions in the new building will foster collaboration and integration with UT Dallas' BME faculty members to attain a critical mass of investigators with complementary expertise needed to improve human health and unravel the fundamental underpinnings of biological processes.
News & Highlights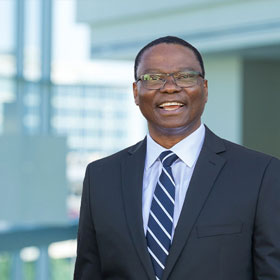 Molecular imaging expert Samuel Achilefu, Ph.D., will join UT Southwestern Feb. 1 as the first Chair of a new Department of Biomedical Engineering. Dr. Achilefu was recruited to UTSW from the Mallinckrodt Institute of Radiology at Washington University School of Medicine in St. Louis.
---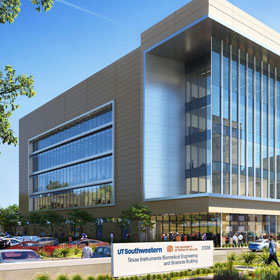 Samuel Achilefu, Ph.D., nationally recognized for expertise in molecular imaging and its application in treating human diseases, has been selected inaugural Chair to launch a new Department of Biomedical Engineering (BME) at UT Southwestern Medical Center.