Texas Institute for Brain Injury and Repair brings comprehensive approach to Neurosciences specialty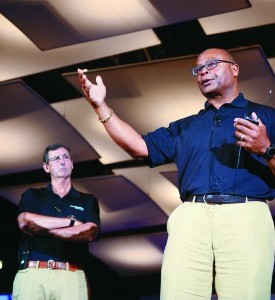 Since governmental, community, and health care leaders united in 2014 to launch UT Southwestern's Texas Institute for Brain Injury and Repair, Institute researchers have reported new findings on potential long-term consequences of concussions, initiated one of the nation's first concussion registries for student athletes, provided pilot grants for several studies involving basic and clinical research, and helped establish a brain imaging facility with next-generation microscopes that are among only a handful in the world.
The Institute is a state-funded initiative to promote innovative research and education, and to accelerate the translation of that research into better diagnosis and care for millions of people who suffer brain injuries each year.
Preventing or minimizing concussion-related injury is one area where researchers especially hope to make an impact. As such, the Texas Institute for Brain Injury and Repair, known informally as TIBIR, last year set up the nation's first concussion registry for student athletes aimed at improving treatment.
The registry, called CON-TEX, will capture comprehensive, longitudinal data on children and adults who have suffered sports-related concussions or other forms of mild traumatic brain injury (TBI) – no small task considering an estimated 3.8 million recreational and athletic concussions occur in the United States each year. CON-TEX is a collaboration involving health care professionals in neuropsychology, physical medicine and rehabilitation, neurology and neurotherapeutics, neurological surgery, pediatrics, psychiatry, and sports medicine at UT Southwestern, Children's Medical Center Dallas, Texas Scottish Rite Hospital for Children, and Texas Health Resources Ben Hogan Sports Medicine.
"There is so much we do not know about concussion. We need to study the history of concussions, obtain information about how and where they take place, and then design rigorous clinical research on treatment," said Dr. Munro Cullum, Professor of Psychiatry and Neurology and Neurotherapeutics, and Principal Investigator for the CON-TEX study. "Our long-term goal is a better understanding of concussion, its risks, treatment, and prevention, not just in student athletes, but for people in all stages of life."
In connection with the launch, last fall the Institute hosted "Concussions – Finding Answers to Manage Risk, Evaluate, and Treat Them," a symposium for coaches, trainers, student athletes, and parents featuring Pro Football Hall of Famer Mike Singletary and key UTSW faculty members. Attendees received practical advice and information about concussion symptoms, treatment, and research efforts. The program also aimed to engage the public to help with research by participating in clinical trials and registries. Knowledge from these studies will guide best practices to improve the long-term health of student and adult athletes in Texas and beyond.
The Institute, which is led by Dr. Hunt Batjer, Chair of Neurological Surgery; Dr. Mark Goldberg, Chair of Neurology and Neurotherapeutics; and Dr. Kathleen Bell, Chair of Physical Medicine and Rehabilitation; is a collaborative initiative involving local and national organizations, including the National Institutes of Health, UT Dallas and its Center for BrainHealth, Children's Medical Center, Dallas VA Medical Center, and Parkland Health & Hospital System, as well as Texas Health Resources and Texas Health Ben Hogan Sports Medicine. The Institute also has ties to the Department of Defense and the NFL, which have a strong commitment to improve brain injury research and care.
"From its conception, the initiative has been designed to involve the entire community, from patients and parents to scientists and caregivers," said Dr. Batjer, also co-chair of the NFL's Head, Neck, and Spine Committee.
Concussion Signs
According to the CDC, signs of a concussion may include:
Can't recall events prior to or after a hit or fall.
Appears dazed or stunned.
Forgets an instruction, is confused about an assignment or position, or is unsure of the game, score, or opponent.
Moves clumsily.
Answers questions slowly.
Loses consciousness (even briefly).
Shows mood, behavior, or personality changes.
The NFL affiliation was instrumental to a TIBIR-related study involving former professional football players who lost consciousness due to concussion during their playing days. These players showed key differences in brain structure later in life, according to the study published in JAMA Neurology. Specifically, researchers found the hippocampus, a part of the brain involved in memory, was smaller in 28 former NFL players as compared with a control group of men of similar age and education.
"While we found that aging individuals with a history of concussion and loss of consciousness showed smaller hippocampal volumes and lower memory test scores, the good news is that we did not detect a similar relationship among subjects with a history of concussion that did not involve loss of consciousness, which represents the vast majority of concussions," said Dr. Cullum, co-author of the study.
In other work, TIBIR researchers found that stopping production of new neurons in the brain in animal studies following traumatic brain injury can reduce epileptic seizures, cognitive decline, and impaired memory. Brain injury stimulates the production of new neurons, but these new cells are sometimes overly excitable, disrupting neural circuits and causing seizures. In genetically modified mice, stopping new neuron development resulted in fewer seizures and less cognitive side effects.
To foster more such pioneering research, last year TIBIR awarded pilot grants to support studies about the cellular, systems, and functional mechanisms of brain damage and recovery, including:
A study of aberrant neurogenesis, which means formation of faulty neurons. This process contributes to the disruption of normal circuits and may cause post-traumatic epilepsy, recurrent seizures, or memory problems.
An effort to reprogram certain glial cells (cells that surround and provide support to neurons) into functional neurons for brain regeneration and repair.
A study to assess the effects of rotational brain injury and evaluate new treatments for this type of injury.
A study to better understand damage to white matter (the deep tissues of the brain that contain nerve fibers) and to test the efficacy of vagal nerve stimulation in TBI recovery.
A novel study of bull riders and indirect head injury to provide a better understanding of whiplash-type brain injury.
State-of-the-art technology aids these research efforts. Last year, TIBIR acquired a pair of TissueCyte 1000 microscopes, the latest generation in serial two-photon laser imaging, as a centerpiece of a new Whole Brain Microscopy Facility. The TissueCyte microscopes are the only ones of their kind in Texas, and two of just a handful in existence worldwide that will be a major resource for scientists researching traumatic brain injury and neurodegenerative diseases such as Alzheimer's, Parkinson's, Huntington's, and Lou Gehrig's diseases. The microscopes can help reveal both healthy and damaged neuronal connections, allowing researchers to evaluate potential therapies.
"The brain is composed of billions of neurons concentrated in a small space and connected in really complicated ways," said Dr. Julian Meeks, Assistant Professor of Neuroscience and director of the Whole Brain Microscopy Facility. "Mapping these connections has been the subject of neuroscientists' dreams and nightmares since the late 1800s."
TIBIR's efforts include an intense focus on novel therapeutic advances for treating brain injury, drawing on the group's depth of technology advances, innovative research, and exemplary patient care to create a unique collaboration that will enhance the treatment and diagnosis of brain injuries.
"To make desperately needed strides in this arena, we must continue to expand the depth of our expertise across the spectrum of pediatric and adult neurosciences," said Dr. Goldberg.
###
Dr. Batjer holds the Lois C.A. and Darwin E. Smith Distinguished Chair in Neurological Surgery.
Dr. Bell holds the Kimberly-Clark Distinguished Chair in Mobility Research.
Dr. Cullum holds the Pam Blumenthal Distinguished Professorship in Clinical Psychology.
Dr. Goldberg holds the Linda and Mitch Hart Distinguished Chair in Neurology.