3,000 and counting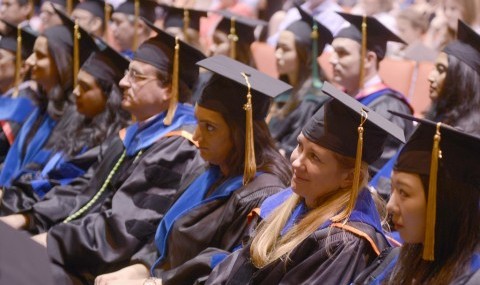 The UT Southwestern Graduate School of Biomedical Sciences hit a milestone while conferring 105 degrees to its 2015 class on May 28. Since its establishment at UT Southwestern Medical Center, the Graduate School has now conferred degrees to more than 3,000 students.
Dr. Andrew Zinn, Dean of the Graduate School and Professor in the Eugene McDermott Center for Human Growth and Development, and of Internal Medicine, presided over the event and introduced the commencement speaker, Dr. Carole Mendelson, Professor of Biochemistry and of Obstetrics and Gynecology, who recounted to the crowd in the Tom and Lula Gooch Auditorium that she has known Dr. Zinn since he was a M.D./Ph.D. candidate working in the UT Southwestern's acclaimed Medical Scientist Training Program.
"I believe that there are few biomedical institutions anywhere that offer the outstanding education and research training that you have received," Dr. Mendelson told the graduating students. "You are graduating from an extraordinary institution, and you can do extraordinary things."
She told the Class of 2015 that "it won't be an easy task, and it won't be an easy journey, but it will be entirely worth it. In recognition of all your past, present, and future accomplishments, I say thank you for your dedication, your motivation, your hard work, and your sacrifice."
Dr. Mendelson called the invitation to speak an honor "that means more to me than you can possibly imagine." She recounted how she received her doctoral degree from Rutgers University 45 years ago, and came to UT Southwestern 39 years ago as a postdoctoral Fellow.
"But look at me: I'm still walking, talking, and – I think – thinking. So my brain isn't dead yet."
Among many nuggets of advice she offered was a story about how she was at one point asked to take over a Program Project grant after the Principal Investigator had passed away. "I was reluctant to take on yet another area of research, but I could not say no to the Dean. Some 16 years later, I can easily say that this was one of the most important scientific decisions that I have made, since it opened up a world of exciting research for my laboratory.
"So, as I look back on my career, the most important lessons that I can share with you are: Don't be afraid to make life-changing decisions. Have the confidence to make the most of opportunities, if they seem right for you. And, if you make the decision to do something, give it your all and do it well!"
Dr. Daniel K. Podolsky, President of UT Southwestern Medical Center, conferred degrees on the graduates in three disciplines – Doctor of Philosophy, Master of Science, and Master of Science in Clinical Science.
###
Dr. Podolsky holds the Philip O'Bryan Montgomery, Jr., M.D. Distinguished Presidential Chair in Academic Administration, and the Doris and Bryan Wildenthal Distinguished Chair in Medical Science.
Dr. Zinn holds the Rolf Haberecht and Ute Schwarz Haberecht Deanship of the UT Southwestern Graduate School of Biomedical Sciences.