Baylor researcher Zoghbi to give WISMAC lecture
Dr. Huda Y. Zoghbi, Professor of Pediatrics, Molecular and Human Genetics, and Neurology and Neuroscience at Baylor College of Medicine in Houston, will present the Ida M. Green Distinguished Visiting Professorship Lecture Honoring Women in Science and Medicine on February 4.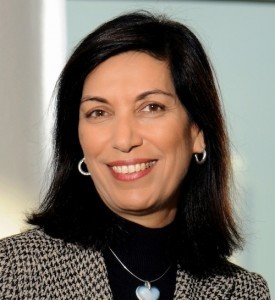 The event, organized annually by the Women in Science and Medicine Advisory Committee (WISMAC), will take place at 4 p.m. in the Excellence in Education Foundation Auditorium on the North Campus.
Dr. Zoghbi – whose talk is titled "Rett syndrome & MeCP2 disorders: From the clinic to genes and neurobiology" – is an Investigator in the Howard Hughes Medical Institute, and Director of the Jan & Dan Duncan Neurological Research Institute (NRI) at Texas Children's Hospital in Houston. The Zoghbi Laboratory uses genetic, biochemical, and cell biological approaches to explore the pathogenesis of polyglutamine neurodegenerative diseases and Rett syndrome, and to study genes essential for normal neurodevelopment.
Born and raised in Beirut, she earned her undergraduate degree in science and entered medical school at the American University of Beirut in 1975. When her medical education was disrupted by the civil war in Lebanon, her family sent her and her brothers to live with a sister in Texas. Since she was unable to return to her native country, Dr. Zoghbi matriculated at Meharry Medical College in Nashville, Tenn. and earned her M.D. in 1979.
She completed a pair of residencies at Baylor College of Medicine – the first in Pediatrics in 1982, and the second in Neurology and Pediatric Neurology in 1985.
Dr. Zoghbi trained to be a clinical pediatric neurologist but was drawn to research. So she completed a postdoctoral fellowship at Baylor in the laboratory of geneticist Dr. Arthur L. Beaudet and joined the faculty there as an Assistant Professor of Pediatrics in 1988.
WISMAC annually hosts a distinguished female scientist/physician who visits campus for a two-day professorship and lecture. The organization is an institutional committee comprised of appointed representatives of the faculty, staff, fellows, and student body whose goal is to promote representation and recognition for women in all campus activities.
The Southwestern Medical Foundation sponsors the distinguished visiting professorship, established in honor of Ida Green, the wife of Texas Instruments co-founder Cecil H. Green, both now deceased. Mrs. Green was a great supporter of opening career paths for women in science and medicine and provided a major bequest to the Foundation.