Overview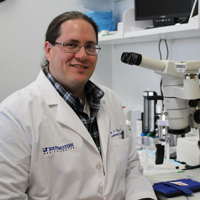 The Neuro-Models Facility's objective is to facilitate scientific research into nervous system function and to enhance the development and testing of novel therapeutic strategies for the treatment of nervous system disorders. The NMF seeks to provide resource capacity that would otherwise be unavailable or impractical in an individual laboratory.
The NMF specializes in using surgical techniques to produce rodent models of neural injury, nervous system disease, and for related areas of neurological research (e.g., neural recording, stereotactic injections, etc.). The NMF also specializes in model-appropriate behavioral testing with an emphasis on sensorimotor function. New or modified procedures can be developed based on client interests and needs.
The NMF has two locations to facilitate specific research needs. The NC4 location includes approximately 1,000 square feet, subdivided into five areas: a surgical procedure room, a behavioral testing room, an EEG recording and Sleep studies room, a dedicated housing room, and a support area containing a biohood. The NL10 location (currently under construction) will include a surgical procedure room, dedicated housing, and a support area.