Timea Hodics, M.D., takes part in Capitol Hill visit targeting compensation for neurologists
By Julie Kirchem, Neurology Information Services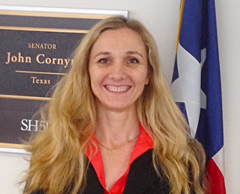 WASHINGTON, D.C. – May 22, 2013 – Timea Hodics, M.D., Assistant Professor of Neurology and Neurotherapeutics, was among nearly 140 neurologists who visited Capitol Hill on April 22 and 23 to talk with lawmakers about issues like fair compensation, better patient access to neurological care and reduced research support.
The group represented the American Academy of Neurology whose top priority is to seek payment reform that more accurately values cognitive care services. According to the AAN, the current Medicare fee–for–service model disproportionately values procedures over non–procedural care. Any reform of the Medicare sustainable growth rate (SGR) formula offers an opportunity for broader payment reforms.
The delegation met with individual members of Congress to find co-sponsors for a bill that would add neurologists to the so-called "Medicaid Bump," a piece of legislation that will allow primary care providers to charge Medicare rates for Medicaid services as part of the Affordable Care Act (ACA). This provision currently excludes neurology and other specialists not boarded by the American Board of Internal Medicine.
Dr. Hodics joined the group because she believes that poor compensation for neurologists could lead to a lack of specialists in the field, reduced access to care for patients, and reduced quality of life for those entering the field.
"Often times neurologists are not even reimbursed for procedures that they do. For example, acute stroke imaging is usually read by stroke neurologists, yet it's the radiologists who charge for the service," Dr. Hodics said. "The current balance is not sustainable to provide quality care and cutting edge research in the twenty-first century."
Dr. Hodics, Director of the Stroke Recovery Program in the Department of Neurology and Neurotherapeutics, says there are several factors reducing the quality of life for neurologists including unpaid call, an increase in administrative tasks, and low pay.
"We become physicians because we want to help people and we want to solve some of the biggest challenges facing our aging population like Alzheimer's disease and stroke," she said. "But with the current reimbursement climate and the demands on our time, the profession has come under threat."
Dr. Hodics and her colleagues visited with several congressmen including Rep. Pete Sessions who expressed a strong interest in neuroscience and wanted to learn more about the issues facing neurologists.