Shanan Munoz, M.D., joins Multiple Sclerosis Program
By Julie Kirchem, Neurology Information Services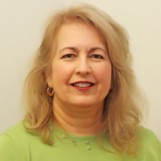 Shanan Munoz, M.D., has returned to the place where her career as a neurologist began. She completed her residency in neurology at UT Southwestern Medical Center in 1988 and also completed a fellowship in Clinical Neurophysiology in 1989. Since then, Dr. Munoz has been a general neurologist in the Dallas area.
She was most recently with Plano Neurologists where her practice included a large group of multiple sclerosis patients. Dr. Munoz was always intrigued by MS, and how it manifested itself in diverse symptoms.
"First, you have to ask, is it MS or not?" Dr. Munoz said. "You have to make sure that their symptoms are not due to another health problem, and because of being a general neurologist, I look at all the symptoms."
Dr. Munoz's comprehensive approach to diagnosing and treating MS patients was one reason that Dr. Elliot Frohman, Director of the Multiple Sclerosis Program, asked her to join the faculty.
"She is an accomplished teacher, and exhibits enormous exuberance for working within a multidisciplinary team of colleagues on behalf of those we serve," Dr. Frohman said. "I have always found her to be an amazing patient advocate."
It was a tough decision for Dr. Munoz to leave her non-MS patients in the care of others, but she couldn't pass up the opportunity to work with Dr. Frohman and the faculty and staff at UT Southwestern.
"I realized that working with Dr. Frohman and his talented group would be an opportunity to provide more complete care of MS patients," Dr. Munoz said. "They take such great care of patients here."
"This medical institution is a very special place because of the very special people who work here," said Dr. Frohman, Professor of Neurology and Neurotherapeutics and Ophthalmology, "and Shanan will continue that tradition and contribute to our mission to deliver the very best care to those who struggle every day with MS."
Dr. Frohman is holder of the Kenney Marie Dixon-Pickens Distinguished Professorship in Multiple Sclerosis Research and the Irene Wadel and Robert Atha Distinguished Chair in Neurology.