Julian P. Yang, M.D., brings experience in teleneurology to UT Southwestern
By Julie Kirchem, Neurology Information Services
Julian P. Yang, M.D., has joined the Neurocritical Care (NCC) team at UT Southwestern with a dual appointment as Assistant Professor of Neurology and Neurotherapeutics and Neurological Surgery.

Dr. Yang trained as a neurology resident at the Barrow Neurological Institute at St. Joseph's Hospital and Medical Center and completed a fellowship in neurocritical care at Duke University Medical Center.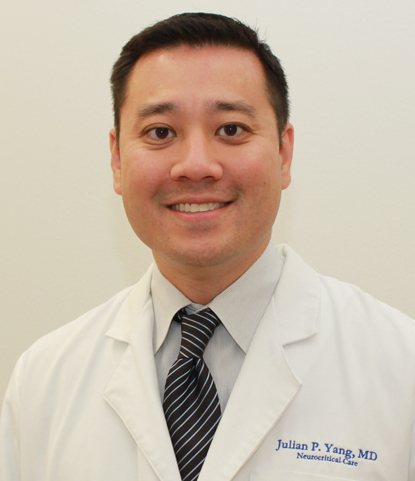 His clinical role as a neurointensivist brings added expertise to UT Southwestern in managing complicated patients. Dr. Yang will treat patients in the Neuro ICU at Zale Lipshy University Hospital and will also be a member of the Neurocritical Care Consult Service at Parkland Memorial Hospital beginning in October.
In addition to clinical care, Dr. Yang has a strong interest in program development for telemedicine applications and has worked with industry partners to develop software for telestroke networks.
"The stroke program is delighted to have Dr. Yang," said Mandy Dirickson, R.N., Stroke Outreach Coordinator. "His enthusiasm is contagious and his vision for the future exciting."
Dr. Yang will take on the role of director of teleneurology for the Department of Neurology and Neurotherapeutics.
"Dr. Yang will expand the "tele-" concept beyond stroke into the broader concept of teleneurology as it relates to clinical research and future technological development," said Dr. Mehari Gebreyohanns, Medical Director for the University Hospital Stroke Outreach Program. "He will also be involved with improvement in the quality and efficiency of our telestroke service."
Dr. Yang has already started with QCI-NASCAR (Quality Care Improvement with Nursing-driven Acute Stroke CARe), a project that he co-authored with DaiWai Olson, Ph.D., R.N. The initiative has been funded through University of Texas Healthcare Safety and Effectiveness grants. The project aims to improve acute stroke care with a focus on nursing-driven protocols in the ER.
"My research focuses on systems of care and workflow processes particularly in relation to applications of telemedicine," said Dr. Yang.
He and Dr. Olson have a straightforward goal for UT Southwestern stroke care in the emergency room:
"We are going to be the fastest," Dr. Yang said. "Get the story, get the labs, get the CT scan, and give the drug (t-PA) that's been demonstrated to be the most effective medication to treat acute stroke."
Dr. Yang believes that empowering the bedside nurse to drive much of the stroke code process is integral to this goal especially as more and more acute stroke treatment is delivered via telemedicine.
"The key to a successful telestroke program is continual education and re-education of staff at spoke sites," he said. "With QCI-NASCAR, we are looking for best practice in terms of how to run stroke codes most effectively. Hopefully, the refined protocol is something we can export to telestroke spoke sites."
Dr. Yang will also be continuing telemedicine work with partners at UT-Houston and will be involved in the Lone Star Stroke Consortium.
"There's so much momentum building here at UTSW. I'm very excited to join the neurocritical care team and work with a very accomplished stroke team. I hope to contribute my part to a world-class institution."