Incoming Neurological Surgery Chair has longstanding ties to UT Southwestern
By Jeffrey Carlton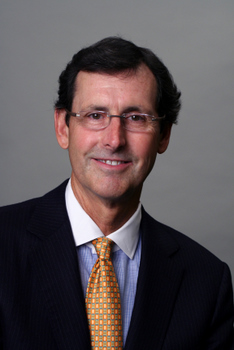 Dr. Hunt Batjer's roots at UT Southwestern Medical Center run deep.
He went to medical school, did his residency, and rose through the ranks to become a Professor of Neurological Surgery, all here. He even was part of the first surgery at Zale Lipshy University Hospital, successfully correcting a cerebral arteriovenous malformation on a young woman from Arkansas.
Now Dr. Batjer, who left UTSW in 1995 for a successful 17-year run as Chairman of Neurological Surgery at Northwestern University's Feinberg School of Medicine, is returning home. He will replace his mentor, Dr. Duke Samson, as Chair of Neurological Surgery, effective Sept. 1. Dr. Batjer will hold the Lois C.A. and Darwin E. Smith Distinguished Chair in Neurological Surgery.
"I have a lot of sweat equity ­ – a lot of sweat, blood, and tears equity ­– in this institution," Dr. Batjer said. "I believe in what it does, and I am honored at the opportunity to play a leadership role at the place that has given me so many professional opportunities."
Dr. Samson, Chair of the Department since 1985, joined the faculty in 1977, just as Dr. Batjer graduated from medical school and began his residency.
"Hunt and I pretty much were in practice together even when he was a resident. It was obvious even then that he would be a star," said Dr. Samson, who will continue to teach and operate at the medical center. "I think the Department has grown and blossomed in many ways, and it is nice to know that the guy who will take it from here is somebody who respects where we came from."
Dr. Batjer is a renowned neurosurgeon with expertise in cerebrovascular diseases who last year served as the honored guest at the Congress of Neurological Surgeons annual meeting. He is President of the Neurological Society of America, Co-Chair of the NFL's Head, Neck, and Spine Committee, and an elected member of the American Academy of Neurological Surgery, the Society of Neurological Surgery, and the American Surgical Association. He chairs the Accreditation Council for Graduate Medical Education's Residency Review Committee for Neurological Surgery.
Dr. Batjer also is past president of the Congress of Neurological Surgeons and the Society of University Neurosurgeons and past chair of the American Board of Neurological Surgery.
Dr. Batjer has written eight books and almost 350 papers, with a research focus on neurovascular disease, head trauma, and surgical education. At Northwestern, he was the first Chair of Neurological Surgery, a specialty that didn't gain departmental status until 1998.
He acknowledged that he once envisioned finishing his career at Northwestern. But he was swayed by his confidence in UT Southwestern's executive-level leaders – "just a spectacular management team," he said – and an interest in leading Zale Lipshy's conversion to a clinical center for the neurosciences.
"When I came back here for interviews, I was touched by a number of things: the culture on the ground, the civility, and the affection between faculty members from all different departments," Dr. Batjer said. "It really brought back all the great memories and made me much more open about returning."
Dr. Greg Fitz, Executive Vice President for Academic Affairs, Provost, and Dean of the Medical School, said the incoming chair's "exceptional accomplishments" as a physician, surgeon, and teacher make him the best candidate to lead the Department.
"I am confident that the Department will continue to prosper under his leadership as we continue to expand our capabilities and expertise in neurosciences and clinical care," Dr. Fitz said. "His perspectives in science, education, and exemplary clinical care and research will make a difference."