Doris Lambracht-Washington, Ph.D., awarded grant to further research on Alzheimer's vaccine
By Julie Kirchem, Department of Neurology and Neurotherapeutics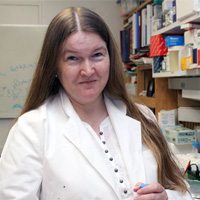 DALLAS - June 1, 2011 - Doris Lambracht-Washington, Ph.D., a researcher and instructor in the Department of Neurology and Neurotherapeutics, received a $10,000 grant of research reagents from BD Biosciences. Dr. Lambracht-Washington will use the award to further her research related to a DNA Abeta42 vaccine to prevent Alzheimer's disease. Abeta42 is the major component of the amyloid plaques which are found in the brains of AD patients -- immunotherapy has high potential for use in AD patients.
She and her colleagues have published three papers in the past two years showing that the DNA Abeta42 vaccine produces an anti-Abeta42 antibody that has a high probability of being effective at reducing brain levels of the toxic peptide Abeta42 without causing brain inflammation, which was one of the side effects that had occurred in a previous clinical trial.
"Antibodies are part of the humoral immune response and they can bind Abeta42 in the blood which causes a peripheral sink mechanism or they can enter the brain and bind to Abeta42 in the plaques which marks them for removal via cellular immune mechanisms," Dr. Lambracht-Washington explained. "It's a possible way to lower Abeta 42 in the brain and thus it might prevent the build-up of the plaques that are one of the hallmarks of Alzheimer's."
Dr. Lambracht-Washington is a member of Dr. Roger Rosenberg's research laboratory. Dr. Rosenberg is Director of the Alzheimer's Disease Center which was recently refunded by the National Institutes of Health with a five-year, $9 million grant.
"Her submitted abstract has been noted by the BD Grant Award Committee as being innovative and important to developing an immunotherapy for Alzheimer's disease, " said Dr. Rosenberg.
"These are important studies in our work on the development of a possible clinical trial to test this DNA vaccine in patients with Alzheimer's disease," he said.
Dr. Lambracht-Washington has been working with Dr. Rosenberg for the past three years. She is hopeful their research will lead to a vaccine that could prevent or even treat Alzheimer's.
"My mother has Alzheimer's disease. I see now from my own experience how devastating this disease is," she said. "When I talk with people about my research, I find also that many are somehow affected in knowing somebody who has this disease and very often AD is even found in their families."