Neurology department hosts stroke symposium for acute stroke first responders
By Julie Kirchem, Department of Neurology and Neurotherapeutics
DALLAS – October 25, 2011 – The Department of Neurology and Neurotherapeutics sponsored a stroke symposium on Saturday, October 22, for acute stroke first responders. More than 70 paramedics, emergency physicians, and nurses attended the symposium.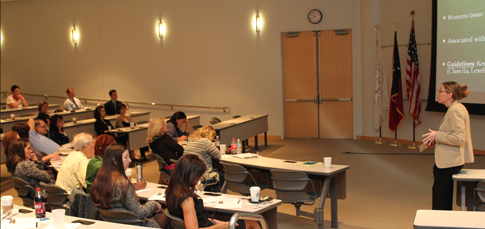 The purpose of the course was to review the available treatment modalities for acute ischemic and hemorrhagic stroke. Amanda Dirickson, M.S., R.N., ANP-C, and Mark Johnson, M.D., were Co-Directors of the symposium.
"We would all like to be so fortunate as to have the right care at the right moment in time," said Dirickson. "Stroke is the leading cause of disability and the 4th leading cause of death in our country. The cost to our nation is in the billions, so this symposium was very relevant and very important to our mission here in the stroke program to "spread the word." "
The course opened with a welcome and introduction from neurosurgeon Duke Samson, M.D., followed by Paul E. Pepe, M.D., discussing how to ensure the chain of recovery from stroke. Dr. Christiana Hall shared her expertise on the presentation and management of acute stroke as well as on telemedicine. Dr. Lee Pride's talked opened with a video about a recent stroke case followed by a presentation on endovascular opportunities in treatment of acute stroke. Dr. Kim Rickert shared her knowledge of early neurosurgical treatments.
"I think the audience of nurses, paramedics and physicians enjoyed seeing the bigger picture of stroke care on the continuum of early recognition with action by EMS through telemedicine and even treatment options for eligible patients for neurointervention and neurosurgery, " Dirickson said.

The symposium ended with attendees being able to ask questions of a panel of experts.
"We feel passionate about educating others, and we are most grateful that such a nice audience took the morning to spend with us," Dirickson said. "We definitely want to do it again."
Video: Endovascular Stroke Treatment
Dr. Lee Pride discusses the case of patient Danny Cox who had a major stroke and underwent angioplasty and placement of a stent.