Neurology Clinic Liaison Bret Newman wins Service Award
By Julie Kirchem, Department of Neurology and Neurotherapeutics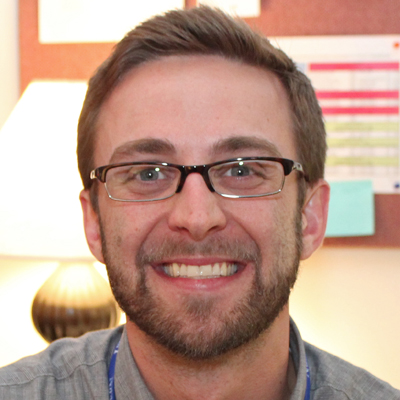 When his co-workers see him coming, they know Bret Newman means business. He often needs a signature or approval for letters or more information – all in the name of helping patients receive the care they need.
"I have to take the burden off nurses and doctors," Newman said. "The doctors say if they see me, they know it means they have to do something for Bret."
But the doctors know that what he needs will ultimately pay off for the patient. Much of his time is spent negotiating with insurance companies and finding resources for patients.
"We as a neurology clinic do some unconventional types of treatment so part of my job is convincing insurance companies that these treatments are valid and needed. I have to write letters and fill out forms galore," Newman said.
His co-workers have come to know Bret as the go-to guy.
"A lot of times I won't hear about something until it's red-flagged, " he said. "They've tried everything else, now I need to step in and find a solution."
Newman's resourcefulness and diplomatic skills have earned him the Meritorious Service Award for the second time in his five years in the clinic.
"In Bret's role as our clinic liaison, he consistently meets and exceeds the needs of our patients and physicians," said Debra Clamp, Billing Manager. "He is compassionate and concerned for our patients and very tuned in to their needs."
The Meritorious Service Award is given to clinic and hospital employees who best demonstrate PACT service standards. Newman also won the award in 2010.
Besides recognition, recipients receive $500. Newman is grateful for the honor, but says the best part of the job is when his efforts help patients..
"People are referred to our clinic on a second, third or even fourth opinion," he said. "So I am often trying to get something that they really need like insurance coverage. When what we prescribe works for the patient and I can get it approved, that is absolutely satisfying."