UTSW nurses improvise, innovate to cope with coronavirus
Nurses at UT Southwestern Medical Center have identified dozens of ways to reduce the risk of COVID-19 exposure.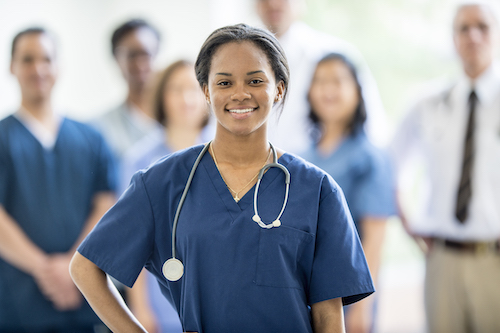 DALLAS – April 1, 2020 – As nurses around the world serve on the front lines treating COVID-19 patients, nurses at UT Southwestern Medical Center have identified dozens of ways to reduce the risk of exposure and preserve scarce protective resources such as masks and gowns.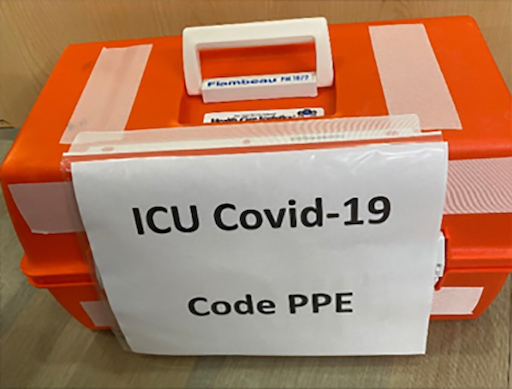 Their recommendations, outlined in the Journal of Neuroscience Nursing, include preparing boxes with personal protective equipment for easy access if an existing patient is found to have COVID-19; designating a "runner" to deliver supplies to nurses for quarantined patients; and increasing the use of teleconferencing to communicate with patients.
"The UTSW team has come up with creative solutions that will reduce the use of valuable personal protective equipment (PPE) and extend how much equipment we have," says co-author DaiWai Olson, Ph.D., Professor of Neurology and Neurotherapeutics, and Neurological Surgery at UT Southwestern, who is also the journal's Editor-in-Chief. "We hope this article helps create a platform for openly sharing ideas. All day and night – all over the world – nurses are calling and emailing other nurses, asking for ideas."
In all, the intensive care nursing researchers identified 13 activities to reduce the use of personal protective gear, 17 activities that increase staff safety and readiness, and six activities that reduce foot traffic into patient rooms.
Among them, the authors suggest:
Moving IV pumps and ventilator control panels outside patient rooms so medical staff can adjust and monitor the machines without entering. To keep the longer IV tubing needed to do this from touching the floor or becoming kinked, a UTSW nurse came up with the idea of winding the tubing over a roll of medical tape attached to the pole-like device used to secure catheters.
Designating one nurse as a "runner" to deliver supplies to nurses caring for quarantined patients in individual rooms. That allows nurses working with patients to avoid making trips in and out of the rooms, which would require them to repeatedly take off, then put back on, protective equipment such as masks and gowns, increasing their risk of infection while also soiling more equipment.
Using in-room videoconferencing capability to allow nurses to check in on patients via a two-way TV screen in their room, reducing the number of nurse trips into the room and therefore the number of masks and gowns used. Video teleconferencing equipment is available in each patient room at UT Southwestern's William P. Clements Jr. University Hospital. In addition, one medical professional with a digital stethoscope can transmit the sounds and images of a patient's heartbeats to a computer screen outside the room so others can hear and see without entering.
Increasing the number of "negative air flow" rooms available for infected patients by having engineering adjust the ventilation into the nurses' station to increase air pressure there, and sealing off the entire ward so all the patient rooms become negative air flow, allowing air in patient rooms to flow out through a filter.
Creating designated protective equipment "code" boxes that contain all the needed PPE for use in the event an admitted patient is later found to be COVID-positive. This makes the gear immediately available to medical professionals treating the patient.
"It is said often in nursing that we should have received an engineering degree with our nursing degree," says Blair Lane, senior author of the study and an Interim Nurse Manager who works with COVID-19 patients. "Nurses are constantly looking for new and innovative ways to complete tasks or care for patients."
At UT Southwestern, nurses are encouraged to move beyond their role in the hospital to also participate in research projects.
"During this worldwide event, we share our knowledge in the hopes that this will encourage other nurses to share their tips, their innovations, and their ingenuity," the report concludes.
To share ideas, Olson suggests using social media sites connected to medical institutions like UT Southwestern or professional groups such as the American Association of Critical-Care Nurses, which moderate the information posted.
Jamison Newby is first author of the study. Madison Mabry and Byron Carlisle are co-authors. All work at UT Southwestern.
Table 1. Early innovations and actions implemented during COVID-19 pandemic
| Innovation | Reduce use of PPE | Staff safety and readiness | Reduce foot traffic |
| --- | --- | --- | --- |
| Improved staffing Ration | X | X | X |
| Runner | X | X | X |
| Clumping of activities | X | X | X |
| Mock-up rooms and practice items | X | X | |
| Ventilator control panel is outside the room | X | X | |
| IV pump outside room | X | X | |
| Use tape roll as IV tubing pivot point | X | X | |
| Stabilizing device to secure IV tubing | X | X | |
| Write on glass with dry erase marker | X | X | |
| Videoconferencing | X | X | X |
| Redefined roles for resuscitation | X | X | |
| Digital stethoscope | X | | X |
| Reposition beds for ventilator management | X | | |
| Relocating a break room nearer the COVID unit | | X | X |
| Visually define clean vs dirty counter in room | | X | |
| Tape on floor to denote 6 feet from bed | | X | |
| Spotter for donning and doffing | | X | |
| Negative flow ward | | X | |
| Designated PPE code box for in-house exposure | | X | |
About UT Southwestern Medical Center
UT Southwestern, one of the premier academic medical centers in the nation, integrates pioneering biomedical research with exceptional clinical care and education. The institution's faculty has received six Nobel Prizes, and includes 22 members of the National Academy of Sciences, 17 members of the National Academy of Medicine, and 14 Howard Hughes Medical Institute Investigators. The full-time faculty of more than 2,500 is responsible for groundbreaking medical advances and is committed to translating science-driven research quickly to new clinical treatments. UT Southwestern physicians provide care in about 80 specialties to more than 105,000 hospitalized patients, nearly 370,000 emergency room cases, and oversee approximately 3 million outpatient visits a year.