Super Bowl parties can be nutritious, healthy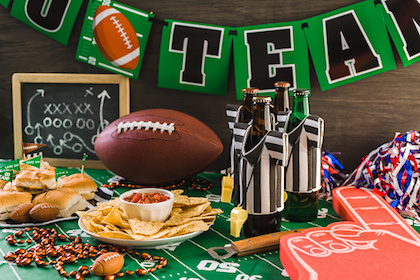 DALLAS – Jan. 30, 2020 – If you have resolved to eat healthier to manage your diabetes, blood pressure, or cholesterol, parties can present a challenge, so it's important to have a game plan before tackling the Super Bowl spread, UT Southwestern Medical Center dietitians say.
"The touchdown to good health is successfully juking big portions and choosing healthy foods for most meals," says Lona Sandon, Ph.D., a registered dietitian nutritionist at UT Southwestern.
If you're hosting a party, include healthy options such as salad, fruits, vegetables, and nonfried foods. Low-calorie and sugar-free selections such as fresh or roasted veggies with light dip can help diabetic friends and family control calories and carbohydrates and make sound choices without much fuss. Offer foods in pre-portioned cups as a defensive strategy against out-of-control portions.
"For people with diabetes the end goal is to balance carbohydrate with protein and healthy fat on your plate – for example, top a small handful of chips with shredded chicken, salsa, and avocado," Sandon advises. She also says to have a game plan, fill up on veggies before chicken wings, limit snacking on sweets to the fourth quarter, and put a hold on the alcohol. Get in some exercise too, showing your team spirit by cheering them on.
Controlling Diabetes
If you're a guest trying to keep control of your diabetes, find out what's on tap for the Super Bowl party you're attending. If it's shaping up to be a high-carb feast, bring some of your own favorite dishes, or coordinate with others with diabetes to ensure the table includes healthier options. It is also important to monitor blood sugar on a regular basis.
Controlling Blood Pressure and Weight
If blood pressure is more of a concern for you, load up on fruits and veggies that provide potassium and limit your sodium by avoiding salty snacks, dips, and sauces.
Be realistic around Super Bowl spreads, Sandon adds. Fat free does not necessarily equate to lower calorie intake, and the lack of flavor of some substitutes might actually lead people to want to eat more.
Below are some nutritional alternatives for Super Bowl parties:
Chips: Try baked versions, lightly salted pretzels, unbuttered popcorn sprinkled with grated Parmesan cheese, trail mix, unsalted nuts, or pumpkin or sunflower seeds. (These options are not really calorie savers over chips, just alternatives with better nutritional value.)
Dip: Try salsas, low-fat sour cream dips, or yogurt instead of traditional chip and vegetable dips, or low-fat versions of dressing instead of traditional ranch dressing. Substitute fat-free or lower-calorie ingredients such as vegetarian-style refried beans or whole beans, sour creams, low-fat cheeses, and ground turkey to reduce calories for seven-layer dip.
Pizza: If selecting more than one slice, substitute a slice of thin crust, veggie pizza for a slice of three-meat pizza. Or make homemade pizzas with lean ground turkey instead of hamburger or sausage and use low-fat cheese and wheat pizza doughs.
Wings: For chicken wings, take the skin off and bake or grill instead of deep frying. Consider grilling chicken pieces instead of serving traditional wings. Make your own hot sauce without the butter and use low-fat versions of cream cheese, sour cream, and blue cheese or substitute plain Greek yogurt.
Chili: Try meatless chili with different types of beans. Substitute or mix with ground turkey or ground soy. Include rice in the bowl to help fill you up faster.
Beverages: If partaking of alcohol is part of your tradition, it's helpful to drink a "spacer" (for example, sparkling water) between alcoholic beverages to keep your appetite in check and stay hydrated. Try light wines and light beers. Substitute flavored water for soda.
Nachos: Cut calories with baked tortilla chips, vegetarian refried beans or mashed black beans, low-fat cheese, peppers and tomatoes, fat-free sour cream, and lean ground turkey or ground soy.
BBQ: Try vinegar-based sauces instead of those with high brown-sugar content. Mix chicken and beef on your plate to help lower overall calories. Offer kabobs mixed with vegetables instead of traditional steak.
Ribs: Try leaner beef ribs instead of pork ribs, which are usually fatter. Try baby back instead of regular ribs. Consider brisket instead because you're likely to eat less.
Burgers: Try using your favorite spices and rubs on veggie, turkey, or soy burgers to give similar flavor with fewer calories, or blend hamburger with ground turkey or ground soy. Try beef jerky to get the beef flavor.
French fries: Try baked sweet potato fries.
Macaroni and cheese: Try low-sugar baked beans or rice dishes.
Bratwurst/hot dogs: Bratwurst usually has more calories than lean hot dogs. Look for 100 percent beef franks. Also try turkey or soy franks. Use wheat buns or tortillas.
Desserts: Cut up fresh fruit and serve over low-fat vanilla yogurt in parfait cups or topped with light whipped cream and a sprinkle of granola.