Friends, parents, and peers provide critical support system for adolescents and young adults with cancer
DALLAS – March 20, 2020 – Imagine inserting a cancer diagnosis into your tumultuous teen or young adult years.
If not teamed with psychological, social, and emotional support, the news can negatively impact young patients' emerging developmental needs and perspectives, based on results of a new study outlining the value of cancer psychosocial support programs.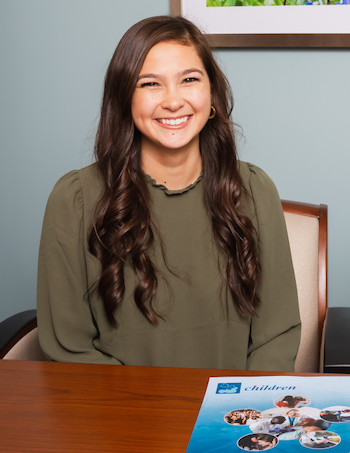 "Adolescence is already a difficult developmental period, as teens and emerging adults are striving for independence and autonomy, are separating from parents, and are initiating romantic and peer relationships. Cancer diagnosis and treatment really disrupts this critical period in their lives," says first author Sarah Pennant, Ph.D., a clinical child psychology fellow specializing in pediatric health at Children's Health/Children's Medical Center Dallas and former doctoral student at UT Southwestern Medical Center.
"Adolescents and young adults may have to rely on their parents and families more than they had prior to diagnosis. Frequently, these patients have decreased social interaction due to a number of limitations, such as being at the hospital for treatment, being removed from mainstream school or college, and restrictions on being in crowded areas due to being immunocompromised. Yet, we know these peer relationships are crucial during this time," Pennant adds.
The authors are part of the Adolescent/Young Adult Oncology Program at Children's Health and members of UT Southwestern's Harold C. Simmons Comprehensive Cancer Center and Moncrief Cancer Institute. They looked into how adolescents and young adults (AYAs) ages 15-26 individually cope during cancer treatment and what social supports helped them. The researchers surveyed 10 cancer patients undergoing treatment and 10 parents. Participants scored within the normal to high range on measures of hope, depression/anxiety/stress, quality of life, and social support.
Researchers used oral interviews to explore specific actions helpful to AYA patients, what behaviors they would like from their social supports, and what advice they would give others in their situation – all aimed at helping develop future interventions and to provide guidance for family, friends, cancer peers, and medical teams.
The findings, which appeared in the cover story of the Swiss open-access journal Children, include:
Friends: These patients struggle with feeling as though their lives are at a standstill due to cancer treatment, particularly when comparing their lives to those of their friends and peers, and believe their peers sometimes treat them differently after their cancer diagnosis, leading them to feel as though cancer consumed their identity or that others pitied them. Maintaining connections and communication with friends throughout treatment is a way of continuing to develop deep friendships and experience social milestones.
Parents/family: Some AYAs experience discomfort in seeing their parents become tearful or worried during their treatment, preventing them from sharing their own emotional experience in order to protect their family. But they also expressed the importance of parents and family providing physical and emotional support, advocating for the AYA patient's needs, providing additional information related to treatment, maintaining the AYA's autonomy, modeling a positive attitude, and assisting in everyday tasks.
Others: Others who provided support included similarly aged individuals with cancer, medical staff, significant others, classmates or work colleagues, community members, cancer-specific organizations, and professional or collegiate athletes.
Online resources: When searching for information online, some teens and young adults felt discouraged by articles and statistics that may or may not apply to their cancer situation. Medical staff were helpful by directing them to trustworthy websites and articles and providing accurate, tailored information about their disease course.
"In our Adolescent/Young Adult Oncology Program, we have a core set of providers who pay particular attention to the developmental needs of our patients, help patients find solutions to their unique needs, and also train the other departmental providers in this age group's needs," says Julie Germann, Ph.D., associate professor of Psychiatry at UTSW and program lead of the AYA Oncology Program at Children's Health.
AYA cancer patients are a psychosocially at-risk group, as they are less studied than pediatric and geriatric cancer cohorts. As a result, the authors say, these AYA patients can experience disparities in access to developmentally informed treatment. Before intervention studies were put in place, it was important to gather the experience from AYAs themselves to see how they were coping.
"Programs and hospitals across the nation are beginning to focus on this unique age group, trying to be more innovative and creative with their approaches," says Pennant. "Our research has found certain categories and themes that seem relevant to AYAs going through cancer treatment, but the goal would be to meet each individual's needs based on what they find the most challenging and the most relevant in their lives at the time.
"As a result of these findings, we are currently in the process of examining ways to normalize and validate the AYA experience through educational handouts and an interactive personal coping plan to use with patients. Awareness continues to grow within the AYA oncology world, and we hope to continue to highlight this at-risk population with developmentally tailored care."
The National Cancer Institute reports that about 70,000 people between 15 and 39 years of age are diagnosed with cancer each year in the U.S., six times the number of cancers diagnosed in children up to age 14. AYAs are most likely to be diagnosed with cancers such as Hodgkin lymphoma, testicular cancer, and sarcomas. Incidences of specific cancer types, however, vary according to age – with leukemia, lymphoma, testicular cancer, and thyroid cancer the most common among 15- to 24-year-olds, and breast cancer and melanoma most common in patients ages 25-39.
Other UTSW authors include Simon C. Lee, Laura Howe-Martin, Suzanne Holm, and Kelli N. Triplett. Another author is Ryan Campbell of Children's Health. The authors reported no conflicts of interest.
About UT Southwestern Medical Center
UT Southwestern, one of the premier academic medical centers in the nation, integrates pioneering biomedical research with exceptional clinical care and education. The institution's faculty has received six Nobel Prizes, and includes 22 members of the National Academy of Sciences, 17 members of the National Academy of Medicine, and 14 Howard Hughes Medical Institute Investigators. The full-time faculty of more than 2,500 is responsible for groundbreaking medical advances and is committed to translating science-driven research quickly to new clinical treatments. UT Southwestern physicians provide care in about 80 specialties to more than 105,000 hospitalized patients, nearly 370,000 emergency room cases, and oversee approximately 3 million outpatient visits a year.