Combo diabetes treatment amplifies effectiveness, improves medication adherence
DALLAS – Jan. 2, 2020 – A once-daily combination treatment for those with uncontrolled Type 2 diabetes amplifies the treatment's effects – lowering both weight and the number of hypoglycemic events, and improving quality of life and glucose control – and leads to greater adherence to their medications, findings from a clinical trial led by UT Southwestern Medical Center show.
"These important findings challenge conventional thinking."
Researchers compared the once-daily combination treatment – basal insulin and a glucagon-like peptide-1 receptor agonist shot given at the same time each day – against more frequent doses of basal-bolus insulin. It is the first such report evaluating the different regiments in people with highly elevated blood sugar levels (hemoglobin A1c), which elevates the risk of complications.
"These important findings challenge conventional thinking that patients with uncontrolled diabetes need to be treated with a four-shot-a-day insulin regimen," says senior author Ildiko Lingvay, M.D., M.P.H., M.S.C.S., a professor of Internal Medicine and Population and Data Sciences at UT Southwestern. "We found that this easier regimen not only got patients to better glucose control, but also led to less weight gain, fewer episodes of low glucose, and patients had to take less insulin. The results provided much needed evidence to support a new treatment paradigm in patients who have very high blood sugar levels."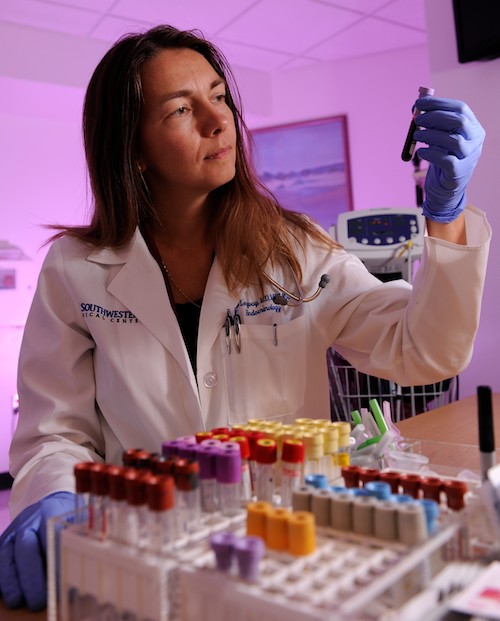 The findings are important to hundreds of millions dealing with diabetes and prediabetes, and particularly important to those with very elevated glucose levels. Recent UT Southwestern studies report that approximately 50 percent of patients with Type 2 diabetes are not on target for glycemic control, at least partially due to nonadherence to medications. The resulting poor glucose control can lead to increased hospitalizations; diabetic complications like premature death, vision loss, heart disease, stroke, kidney failure, and T2DM-related amputations; and increased health care resource use and costs.
According to the Centers for Disease Control and Prevention (CDC), more than 100 million adults in the U.S. alone now live with diabetes or prediabetes, with diabetes being the seventh leading cause of death in the U.S. at the time of the CDC's report.
The findings evolved from the SIMPLE study (Simple basal Insulin titration, Metformin Plus Liraglutide for Type 2 diabetes with very Elevated HbA1c), which divided 120 adults with type 2 diabetes into two groups, receiving either the combination treatment (GLP1RA+BI) or basal-bolus insulin (BBI). Following randomization, follow-up clinical visits occurred at one, three, and six months and included testing, reviews of study-specific daily logbooks, and evaluations of expected medication usage against personal medication stocks actually remaining. Compared with the BBI group, study participants following the simplified combo treatment plan stayed on track at rates near 80 percent higher (59.3% to 35.7% for insulin delivery and 57.4% to 30.4% for the antagonist vs. additional insulin).
This study was conducted at Parkland Health and Hospital System outpatient diabetes clinic, a safety-net health care system with high minority representation (82 percent were either Hispanic or African American) and low socioeconomic status. The patient selection for this study closely matches the characteristics of a population that is disproportionally affected by diabetes and its complications, and is more probable to have uncontrolled disease.
Initial findings comparing the two regiments appeared in Diabetes, Obesity and Metabolism, with additional findings on adherence to medications appearing in the British Medical Journal's open access journal Diabetes Research & Care. The published findings follow on preliminary findings reported at the 78th Scientific Sessions of the American Diabetes Association.
UTSW study authors for the Diabetes, Obesity and Metabolism findings include Lingvay, M.D., M.P.H., M.S.C.S.; Marconi Abreu, M.D.; Anna Tumyan, M.D.; Ahmed Elhassan, M.D.; Katherine Peicher, D.O.; Olivia Papacostea, M.D.; Perihan Dimachkie, M.D.; Muhammad S. Siddiqui, M.D.; Laurentiu M. Pop, M.D.; Uma Gunasekaran, M.D.; Luigi F. Meneghini, M.D.; Beverley Adams-Huet, M.D.; and Xilong Li, Ph.D. Study authors for the Diabetes Research & Care report included Lingvay, Abreu, Sapna Patel, D.O., and Tumyan of Internal Medicine, and Adams-Huet and Li from Population and Data Sciences.
The trial was funded by a Novo Nordisk Investigator Initiated Study Grant. Lingvay reported receiving honoraria for consulting/advisory boards from Novo Nordisk, Eli Lilly, Sanofi, Intarcia Therapeutics, AstraZeneca, Valeritas, MannKind, TARGET Pharma, and Boehringer Ingelheim and research grants from Novo Nordisk, Merck, GI Dynamics, Pfizer, Novartis, and Mylan. Meneghini has received honoraria for consulting/advisory boards from Novo Nordisk, Sanofi, Intarcia Therapeutics, and AstraZeneca. Other authors declare no competing interests. Adams-Huet reported consulting work for Valeritas outside the submitted work. Abreu has consulted for Novo Nordisk outside this work.
About UT Southwestern Medical Center
UT Southwestern, one of the premier academic medical centers in the nation, integrates pioneering biomedical research with exceptional clinical care and education. The institution's faculty has received six Nobel Prizes, and includes 22 members of the National Academy of Sciences, 17 members of the National Academy of Medicine, and 15 Howard Hughes Medical Institute Investigators. The full-time faculty of more than 2,500 is responsible for groundbreaking medical advances and is committed to translating science-driven research quickly to new clinical treatments. UT Southwestern physicians provide care in about 80 specialties to more than 105,000 hospitalized patients, nearly 370,000 emergency room cases, and oversee approximately 3 million outpatient visits a year.