Roughly 6,000 UT Southwestern caregivers receive COVID-19 vaccine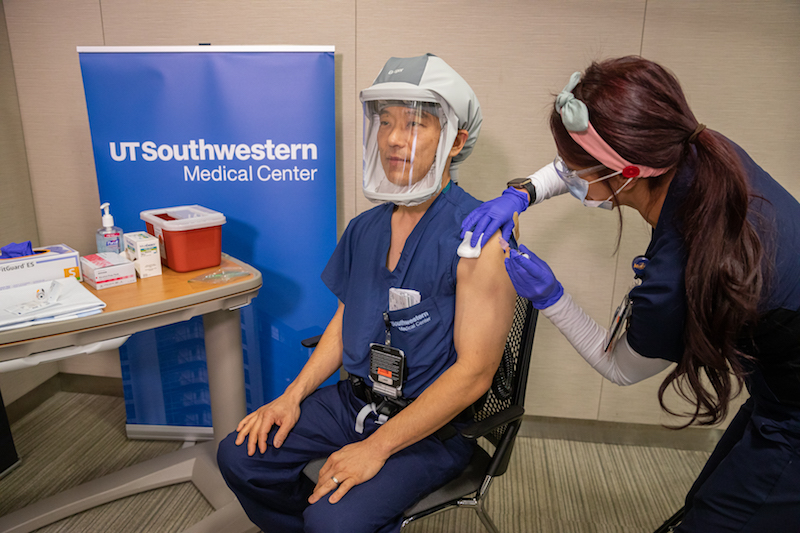 DALLAS – Dec. 22, 2020 – Nearly 6,000 front-line health care workers at UT Southwestern have received initial doses of the COVID-19 vaccine since the Medical Center received its first shipment of 5,850 doses on Dec. 15.
Vaccinations were administered over 16-hour shifts through a tiered distribution that prioritizes protection for employees who care directly for COVID-19 patients or work in proximity to them. UTSW surpassed its anticipated initial inoculation count, thanks to some vials containing an extra dose. The Medical Center is scheduled to receive 975 additional doses of the Pfizer-BioNTech vaccine on Wednesday.
"I think as health care personnel, we kind of owe it to society to be leaders and show that the vaccine is safe and to get the vaccination ourselves. To me this is part of what we do to take care of everybody else," says Craigreon Wallace, a physician assistant in William P. Clements Jr. University Hospital's COVID-19 Intensive Care Unit, who was among the first UTSW workers to receive the shot. "I'm elated and I'm very confident. I hope we can convince enough people that the vaccine is safe, that it works, and that it is going to help protect your loved ones."
Jana Smith, a diagnostic sonographer who conducts ultrasound imaging, was the first UT Southwestern employee to receive the vaccine on Dec.15.
"I think this is the step we need to take to stop the spread from one person to another. If I can be the barrier in any way to the community, I'm honored to do that," says Smith. "What makes this vaccine special is the way it is administered, with the mRNA (messenger RNA) and not putting in a live or weakened virus like we get with the flu shot."
Last week, the Food and Drug Administration approved emergency use authorization of the Pfizer-BioNTech vaccine against SARS-CoV-2 – the virus that causes COVID-19. Within hours, the medical center launched a strategic rollout that was months in the making which included an independent assessment of clinical trial data by UTSW's Vaccine Science Review Committee to evaluate the vaccine's safety and effectiveness.
"We've worked hard to make sure people are informed about the process, have the information they need to make decisions about taking the vaccine, and know that our team is prepared to deliver the vaccine safely," says John Warner, M.D., executive vice president for health system affairs at UT Southwestern. "The execution has been spot on. The arrival of the vaccine at the start of the holiday season is an added bonus and gives us a sense of optimism that we're in for a better year."
Odalys Landaverde, an emergency room technician at Clements University Hospital, says she made an informed decision to be vaccinated. "I know a lot of people are nervous, but you have to trust the science. I read about it and I just knew I could trust the vaccine," Landaverde says.
The first group of UTSW employees to receive the vaccine included physicians, nurses, emergency department staff, labor and delivery staff, screeners, admission personnel, pharmacists, respiratory therapists, anesthesia faculty and staff, transporters, or workers in environmental services and nutrition services who have direct patient contact. Others in the first wave on campus included clinical research personnel, vaccination staff, sample collecting and testing staff directly interacting with COVID-19 patients, as well as anyone involved with high-risk outpatient care or home health. The Pfizer-BioNTech vaccine requires a second shot in several weeks.
Since the first cases of COVID-19 were seen in the early months of 2020, the U.S. has reported more than 16.8 million confirmed cases and more than 304,000 deaths. Texas has had 1.51 million cases and almost 25,000 deaths. As of today, Dallas and Tarrant counties have reported more than 284,000 cases and 2,932 deaths.
"The vaccine trials that were done, the amount of individuals enrolled in them, and the effectiveness and safety that the trials proved were really on par or beyond the data that we would require for any vaccine we currently use," says James Cutrell, M.D., associate professor of internal medicine and program director of UTSW's Infectious Diseases Fellowship Program. "We're starting to see the light at the end of a long tunnel, helping us start to bring this pandemic to a close."