Tendon transplant puts knee, life together again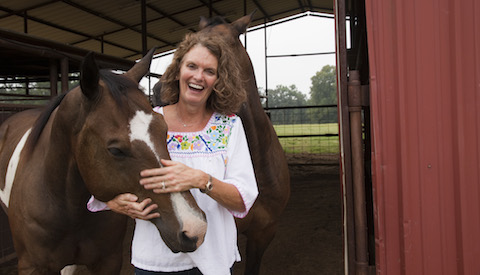 Horses have always been an important part of Karen's life. "I've always been around horses and I've made sure to raise my kids around horses," she said.
Unfortunately horseback riding was one of the things Karen had to put aside when she was diagnosed with multiple sclerosis. MS is a progressive disease that results in debilitating effects in coordinating and can impact mobility, especially walking.
After several years, Karen's status improved enough she was able to consider riding again. She purchased a horse, which was supposedly already broken as well as quite gentle. "Unfortunately she wasn't," Karen said. "So I started working with her, trying to teach her to stand when I got on. One day when I got on she took off running while I went flying off of her, landing hard on one leg."
The trauma to Karen's leg included tearing both her anterior cruciate ligament and medial cruciate ligament, as well as the lateral ligaments. The surgery to repair her leg required the use of a donated tissue graft, a gracilis tendon. Several months after the surgery, Karen was walking without assistance.
"I can no longer ride my horses anymore, but I am so grateful for the very simple things in life like getting out of bed and spending time with my family," she said. "Although MS has made this a bit more challenging, I can finally walk again. This tissue transplant has allowed me to put my knee back together and thus, my life. Without it, I would not have walked. I will always be grateful for the donor's family decision, which is changing my life in so many ways."