Fellowship Goal
The goal of the ACGME-accredited UT Southwestern Hand Surgery Fellowship is to prepare individuals for a successful career in hand surgery. The Fellowship Program provides in-depth and comprehensive training in all areas of adult and pediatric hand and wrist surgery. In addition, hand surgery fellows are able to develop and hone leadership, education, and research skills.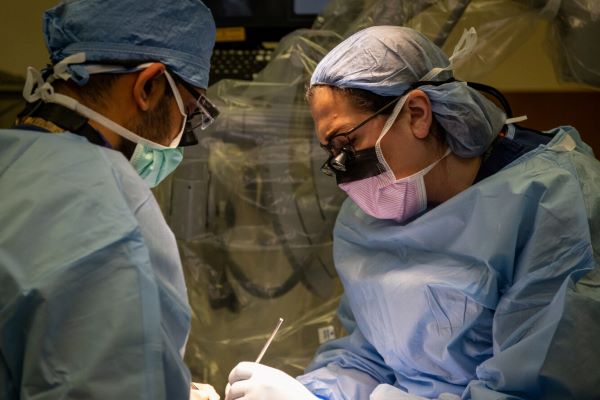 Faculty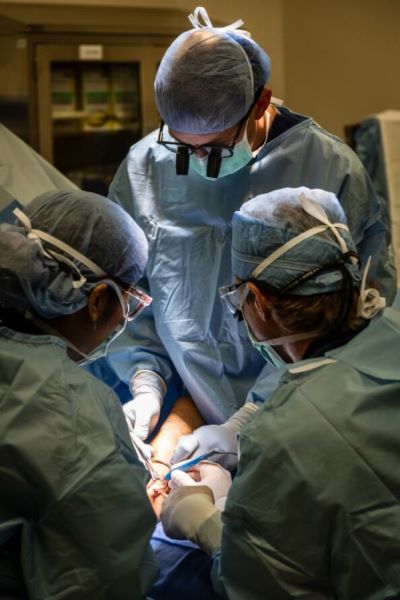 The Hand Surgery Fellowship is a cooperative effort that includes the Departments of Plastic Surgery and Orthopedic Surgery. Our faculty include:
Jonathan Cheng, M.D. plastic surgery
Ann Golden, M.D. orthopedic surgery
Jennifer Kargel, M.D. plastic surgery
Daniel Koehler, M.D. orthopedic surgery
Shelby Lies, M.D. plastic surgery
Andrei Odobescu, M.D., Ph.D. plastic surgery
Scott Oishi, M.D. plastic surgery
Richard Samade, M.D., Ph.D. orthopedic surgery
Douglas Sammer, M.D. plastic surgery, fellowship program director
Christopher Stutz, M.D. orthopedic surgery
Andrew Zhang, M.D. plastic surgery
Institutions
Hand surgery fellows rotate through multiple institutions, including UT Southwestern University Hospitals, Parkland Hospital, Children's Health℠, the Dallas Veterans Affairs Medical Center, and Scottish Rite for Children. Each institution has unique characteristics and patient populations that expose the hand surgery fellows to a wide range of hand and wrist problems.
Education
There are two hand-focused didactic sessions each week:
Hand Indications Conference
On Tuesdays at Hand Indications Conference, we hold a case-based discussion of interesting cases that are scheduled for the upcoming week.
Tuesday, 6 a.m.-7a.m.

Case-based
Hand Conference
The formal Hand Conference is held on Thursdays, and is a traditional teaching conference. The curriculum begins with straight-forward topics and addresses increasingly complex issues over the course of the year. While there are learners of all levels present in Hand Conference, these sessions are focused on fellow-level education. Most lecture topics are presented by experienced hand surgery faculty, with a few sessions over the course of the year being presented by the hand fellows. In addition, intermixed with the clinical topics are three to four sessions dedicated to "the business of hand surgery," presented by various community surgeons. Quarterly M&M and journal review are also incorporated into the Hand Conference curriculum.
Thursday, 6 a.m.-7a.m.

Didactics, journal review, M&M, business of hand surgery
Clinical Exposure
The diversity of institutions allows hand surgery fellows to be exposed to an array of complex hand and wrist problems over the course of the Hand Surgery Fellowship Program, including:
Reconstruction of the hand, wrist, and forearm
Degenerative and autoimmune diseases
Acute and non-acute trauma, including hand, wrist, brachial plexus, and replantation
Arthroscopy of the hand and wrist
Congenital hand and upper extremity, pediatric brachial plexus, and cerebral palsy
Arthroplasty in the hand and wrist
Fellows who have an interest in shoulder and elbow surgery are able to receive some exposure in those areas, although the true focus of the fellowship is hand and wrist surgery.
Case Volume
The Hand Fellows each perform approximately 750 cases per year. The weekly case load per fellow is about 12 to 20 cases. In the table below, we have selected a few case types and the corresponding single-fellow volume from a recent academic year to give a representative idea of the clinical exposure.