Brain Injury Medicine Fellowship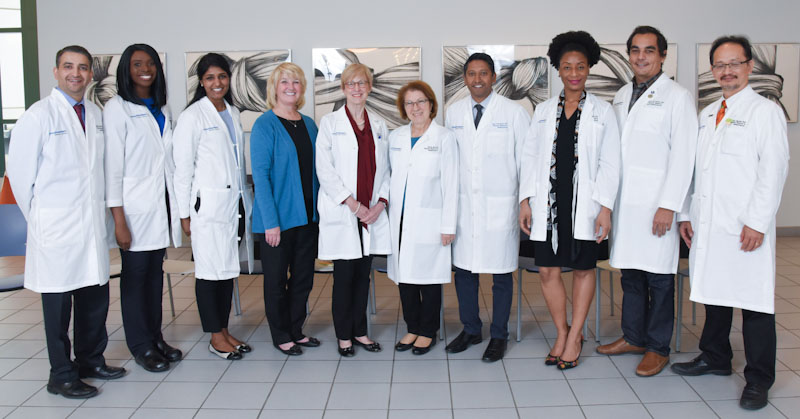 The University of Texas Southwestern Medical Center Department of Physical Medicine and Rehabilitation offers a one-year ACGME accredited fellowship in Brain Injury Medicine (BIM). UTSW Medical Center is part of the North Texas Traumatic Brain Injury Model Systems.
The fellowship offers a breadth of clinical and non-clinical learning opportunities including:
Acute Inpatient Rehabilitation/Inpatient Rehabilitation Unit

Zale Lipshy Pavilion—William P. Clements Jr. University Hospital
Parkland Memorial Hospital

Consultative Services at both University Hospitals and Parkland Memorial Hospital (Level 1 Trauma Center)
Outpatient Clinics:

Stroke and Non-traumatic brain injury Rehabilitation
Traumatic Brain Injury Rehabilitation
Botulinum Toxin Injection Clinic
Intrathecal Baclofen Therapy Clinic
Interdisciplinary Concussion Clinic
Number of specialty clinics including but not limited to: Headache Medicine, Clinical Neurophysiology, Epilepsy, Neuromuscular medicine, Vascular Neurology, Sleep Medicine, Movement Disorders, Behavioral Neurology, Neuro-oncology, Neuroimmunology, and Autonomic Disorders clinic

Neuropsychology
Neuroradiology
Post-Acute rehabilitation

Pate Rehabilitation
Centre for Neuro Skills Rehabilitation

Dedicated Fellow lecture series
Quarterly Acquired Brain Injury Journal Club
Opportunities to attend and provide lectures for TBI and Stroke support groups
Dedicated Research Time with research mentorship
Teaching opportunities to medical students, residents, and staff
Opportunities within the North Texas Traumatic Brain Injury Model System
UT Southwestern Medical Center's Physical Medicine and Rehabilitation Department's Brain Injury Medicine fellowship is for highly motivated and inquisitive physicians interested in perfecting their education and skills in the field of Brain Injury Medicine.
The end result of the one-year fellowship will be a physician who is an expert in the epidemiology and nature of traumatic brain injury (TBI), and management of mild TBI/concussion. The fellow will be exposed to a continuum of care using the Brain Injury Rehabilitation Model including acute brain injury trauma at a Level I trauma center, acute inpatient rehabilitation, and community reintegration/residential transitional brain injury programs. The fellow will also learn about cognitive programs, neuropsychological testing and support, and vocational rehabilitation services, as well as traditional occupational, physical, and speech therapies. Expertise in advanced spasticity management and techniques, including botulinum toxin and intrathecal baclofen pump management, will be mastered upon graduation.
The fellow is expected to participate in ongoing research during the one year via protected time and formal education in the principles of study design, performance, data analysis, and reporting results.
Fellows must have successfully completed an ACGME-accredited program or an RCPSC-accredited program located in Canada in one of the following: child neurology, neurology, physical medicine and rehabilitation, psychiatry, or sports medicine. Candidates must be board-eligible or board-certified at the time of application.
The Brain Injury Medicine fellowship at UT Southwestern Medical Center participates in the NRMP Fellowship Match. Information regarding the application process can be found HERE.
Benefit Programs include medical, dental, vision, supplemental life, AD&D insurance, long-term care insurance, flexible spending accounts and retirement. Details will be provided during the interview process.
An educational stipend is available for the fellow to use for approved conferences, travel, courses, books, or board exam reimbursement.