Neurological Surgery Residency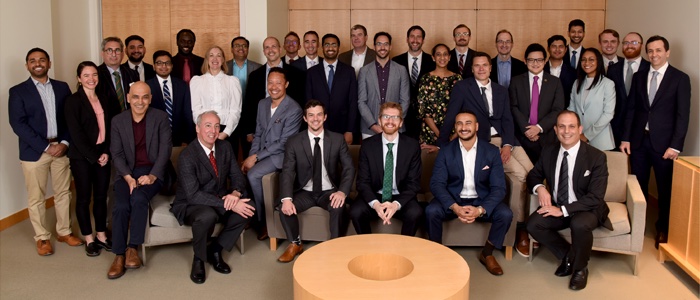 The Neurological Surgery Residency Program at UT Southwestern Medical School graduated its first resident in 1965. Since that time, of the more than 80 who have graduated, three have gone on to become department chairs, and about 20 percent of graduates have entered a career in academic medicine.
Our program is seven years in length with immersion into neurosurgery and neurocritical care in the first year of residency. Out of nearly 300 applications received each year, we interview about 40 candidates, and two or three residents are selected to enter the Neurological Surgery Residency Program.
The goal of our Residency Program is foremost to provide strong clinical training and foster good judgment, both inside and outside the operating room. We seek to recruit trainees that want to use their platform as neurosurgeons to change the field of neurosurgery, through leadership, research and other academic endeavors, advancing education, increasing access to care, or through any of a myriad of other options. Strong leadership abilities also sought and cultivated. Clinically, the program's emphasis is on a practical, patient-centered approach to the field with superlative technical training. Academically, all residents are provided the opportunity to pursue a Discovery Year (usually in the PGY4 year), during which they can dive deeply into an area of interest. While for many the discovery year will be dedicated to the pursuit of laboratory or translational research with a dedicated scientific mentor, other options include pursuing interests in education, public health, or other specialized skills. Our goal is to provide each resident not only with outstanding technical and clinical training, but with the skills and repertoire to launch their future career of their liking. Most residents also are involved with ongoing clinical or basic science research.
The Early Years: Mastering Skills
The PGY-2 and PGY-3 are devoted to mastering patient and critical care skills. Basic operative approaches, patient selection, and surgical skills are also emphasized. Rotations for the PGY-2 and PGY-3 years are primarily at Parkland Memorial Hospital and Zale Lipshy Pavilion—William P. Clements Jr. University Hospital. The third year also includes time for the micro-dissection laboratory with participation as an instructor in our cerebral aneurysm course at the annual Congress of Neurological Surgeons meeting.
The Discovery Year: Developing Specialized Skills
The Discovery Year most often occurs during the PGY-4 year. For those resident trainees who are interested in pursuing a career as a clinician-scientists, this year is used to pursue an in-depth research experience with a dedicated research and scientific mentor. The preparation for the "research year" begins early in PGY-2 and PGY-3, when the resident will participate in dedicated didactics to prepare them for an academic career and meet with various potential mentors to develop a research proposal. The resident will have a research and mentorship plan before the start of the "research year."
For residents who have other interests, the program will work with them to develop customized training programs to meet their training and career goals. In each case, the resident will prepare a specific plan of action, including proposed goals, activities (including possible clinical work), deliverables, and coursework or training.
We seek a diverse experience in this year to attract a diverse team that can enhance the broader training experience.
The Senior and Chief Years: Teaching and Leadership
The senior and chief years (PGY-5, PGY-6 and PGY-7) are spent in Chief Resident rotations at Parkland Memorial Hospital, Zale Lipshy Pavilion, and on senior resident rotations or mini-fellowships in various subspecialty areas. To a degree, these years are tailored to the individual resident's educational needs to fulfill both board requirements and ultimate career goals. Trauma and critical care, complex spine, skull-base surgery, and functional neurosurgery are among the options for mini-fellowship experiences. Residents with an interest in cerebrovascular surgery may elect for an intensive experience in micro-neurosurgery or may have access to an introductory experience in endovascular surgery.
During these final years, some time is spent as the Chief Resident at Parkland and on the Cerebrovascular Service at Zale Lipshy University Hospital. These rotations allow development of teaching and leadership skills and include training on how to organize an academic or private neurosurgery practice. Basic surgical skills are expected to be in place prior to these rotations so that the focus can be on surgical nuances. Throughout training, residents will be aided by neurosurgical clinicians at Parkland Memorial Hospital, Zale Lipshy Pavilion, Children's Health, and the VA Medical Center.
For those residents interested in a career in academic neurosurgery, dedicated time to continuing research during the PGY-7 can be allocated.