Dermatology as a Specialty
The Department of Dermatology at UT Southwestern Medical Center is the largest multispecialty dermatology group practice in North Texas and offers the full spectrum of diagnostic techniques, treatments, procedures, and advanced medical technologies. Our residents and faculty diagnose and treat both common and uncommon diseases of the skin, hair and nails.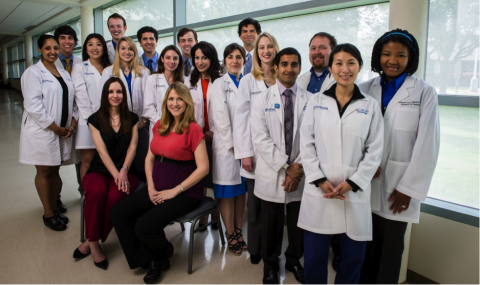 We treat a number of common skin diseases such as acne, warts, rosacea, psoriasis, and contact dermatitis. Many of our faculty are also specialists in the care of complex and difficult-to-treat disorders such as lupus, morphea and scleroderma, pemphigus and bullous pemphigoid, cuteaneous T-cell lymphoma, occupation-related dermatoses, and more. Our dermatologic surgeons excel in the treatment of various forms of skin cancer and specialize in using the Mohs micrographic surgical technique.
All medical students have access to various specialty interest groups to explore their interests throughout the four years. The Dermatology Interest Group is a great way to get your initial exposure to this exciting aspect of medicine.
Those students interested in Dermatology as a specialty may discuss options with any faculty of the department or consult with Heidi Jacobe, M.D., Associate Professor of Dermatology and Dermatology's student advisor.