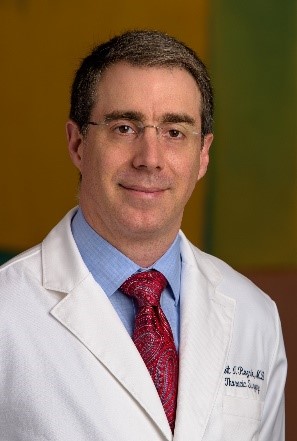 Cardiothoracic surgery is demanding and can be unforgiving. Training for such a career, therefore must be demanding but does not have to be unforgiving. The fellowship program in thoracic surgery provides a wide range of learning experiences in the operating room, the clinic, on the wards and in conference. The teamwork ethos and commitment to education distinguishes the department of cardiovascular and thoracic surgery at UT Southwestern. The culture of our department comes from the senior faculty and infuses everything we do from surgical procedures to research. The faculty collaborate frequently with one another clinically and academically and we work to foster an atmosphere of shared ideals and ideas.
The fellowship training program provides a foundation for lifelong improvement in surgical technique and patient care. The hallmark of our education program is in the operating room. Our default position is for the fellow to perform the majority of surgical procedures including revascularization, aortic surgery, transplantation, structural heart disease and transcatheter valve replacement while providing appropriate guidance and maintaining excellent clinical outcomes. During the three-year training program, fellows have the opportunity to explore special interests through elective rotations and flexible scheduling.
Our goal is to work with our fellows to create a positive learning environment characterized by teamwork that stimulates the fellow to ask questions, find the answers and develop as surgeons.
---