Wellstone Center targets new treatments for Muscular Dystrophy
Using novel gene-editing techniques, researchers in UT Southwestern's Senator Paul D. Wellstone Muscular Dystrophy Cooperative Research Center aim to one day find a cure for a devastating muscle disease that weakens the muscles and often leads to premature death.
The Center studies Duchenne muscular dystrophy, an inherited form of muscular dystrophy that is characterized by progressive muscle degeneration. It usually presents itself in boys ages 3 to 5 and often leads to death by the early 30s. The disorder is caused by a mutation in the gene dystrophin, or DMD, which creates the protein dystrophin that helps keep muscle cells intact.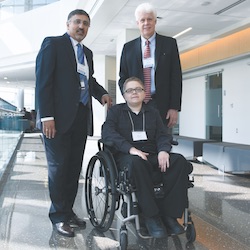 Gene editing, a revolutionary, game-changing technology in biomedical research, enables researchers to edit parts of the genome by deleting or changing parts of the DNA sequence. A particular gene-editing technology called CRISPR/Cas9 developed in 2012 allows precision modification of the genome and has been explored as a potential means to correct disease-causing mutations.
In late 2015, the National Institutes of Health awarded UT Southwestern a $7.8 million grant to establish the Wellstone Center, one of six nationally. Wellstone Centers of Excellence work to translate scientific findings and technological developments into novel treatments for muscular dystrophy, and to promote basic, translational, and clinical research.
Dr. Eric Olson, Chairman of Molecular Biology and Director of the Hamon Center for Regenerative Science and Medicine, co-directs the Wellstone Center with Dr. Pradeep Mammen, Associate Professor of Internal Medicine and Medical Director of UT Southwestern's Neuromuscular Cardiomyopathy Clinic.
"The NIH's investment in the Wellstone Center team significantly enhances the speed with which this potentially life-changing approach can be translated into clinical application," said Dr. Daniel K. Podolsky, President of UT Southwestern, who holds the Philip O'Bryan Montgomery, Jr., M.D. Distinguished Presidential Chair in Academic Administration, and the Doris and Bryan Wildenthal Distinguished Chair in Medical Science.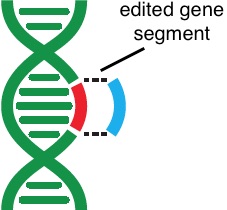 Wellstone Center researchers are currently working on two main projects: One seeks to correct muscular dystrophy in a mouse model of Duchenne muscular dystrophy using a gene-editing technique called Myoediting; the other project will use blood cells from Duchenne muscular dystrophy patients to create stem cells, called induced pluripotent stem cells (iPSCs), which can be used for Myoediting to delete the DMD mutation in the patient's cells. The goal is to eventually take potential therapies developed from this gene-editing technique to human clinical trials.
"Our challenge is to translate this basic science discovery into an effective clinical therapy to improve the lives of patients with Duchenne muscular dystrophy," Dr. Mammen said.
Foundational to this research, Dr. Olson's team in 2014 used CRISPR/Cas9 gene-editing technology to correct the DMD mutation in the germ line of mdx mice, a mouse model of Duchenne muscular dystrophy, to prevent muscular dystrophy. Since germ line editing is not feasible in humans, approaches to deliver CRISPR/Cas9 components into mdx mice were explored. In 2016, the Olson team reported in Science that gene-editing components could be effectively delivered to the muscles of mice using a virus. This type of postnatal gene editing restored dystrophin expression to the muscle and heart and enhanced skeletal muscle function. This method provides an approach to correct mutations responsible for Duchenne muscular dystrophy and other disorders resulting from a single gene modification after birth.
Approximately 20 clinicians and scientists from multiple disciplines at UT Southwestern are currently affiliated with the Wellstone Center, with plans to expand faculty participation. UT Southwestern's clinical and research efforts in muscular dystrophy fall under the umbrella of the Peter O'Donnell Jr. Brain Institute.
Funding for the Wellstone Center totals $7.8 million over five years from the National Institute of Child Health and Human Development, and the National Heart, Lung, and Blood Institute, both institutions of the National Institutes of Health.
"UT Southwestern is the perfect environment for the Wellstone Center. We can merge cutting-edge science with clinical application," said Dr. Olson, who holds the Robert A. Welch Distinguished Chair in Science, the Pogue Distinguished Chair in Research on Cardiac Birth Defects, and the Annie and Willie Nelson Professorship in Stem Cell Research.
On a broader scale, the gene-editing technology now being perfected in the Wellstone Center to treat muscular dystrophy could have far-ranging medical impact, aiding the work of other UT Southwestern researchers seeking new ways to treat or prevent other genetic-based diseases.
Leadership of the UTSW Wellstone Center