UTSW elevates Nursing Program and University Hospitals with Magnet achievement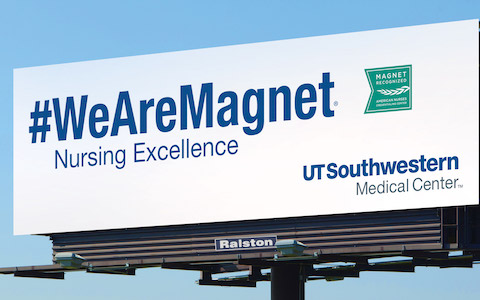 The hundreds of nurses who support UT Southwestern's hospitals and clinics as front-line providers and stewards of exceptional patient care celebrated a significant milestone last year with the Medical Center's achievement of Magnet designation, recognized as the gold standard of nursing excellence.
Only 7 percent of hospitals nationally receive this designation, the highest honor awarded by the American Nurses Credentialing Center (ANCC).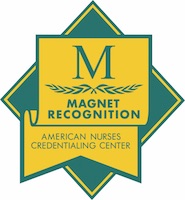 Magnet designation signifies that an organization's nurses provide excellent, evidence-based patient care, advance their practice through research and professional development, and are recognized and respected by their colleagues for the important role they play on the patient care team. The achievement advances UT Southwestern's commitment to providing outstanding patient care, and to arming nurses with the best tools, research, and educational opportunities to serve patients now and in the future.
By coming to a Magnet hospital, patients can expect to receive a higher level of nursing care and to experience shorter lengths of stay, increased satisfaction, and reduced risk of falls, medication errors, and post-procedure complications.
"Magnet status assures patients that they are choosing an institution that provides exceptional nursing care – it reflects the extraordinary dedication and professionalism of our nursing colleagues to the care of our patients," said Dr. Daniel K. Podolsky, President of UT Southwestern, who holds the Philip O'Bryan Montgomery, Jr., M.D. Distinguished Presidential Chair in Academic Administration, and the Doris and Bryan Wildenthal Distinguished Chair in Medical Science.
Achieving Magnet designation is the final step in a rigorous process that begins with the submission of a comprehensive application that is reviewed by the ANCC's Commission on Magnet. After UT Southwestern's application was approved, Magnet reviewers visited
UTSW hospitals and hospital-based clinics in May 2016 and provided nurses, physicians, and other members of the patient care teams with an opportunity to showcase the expertise and the outstanding, compassionate care UTSW nurses provide.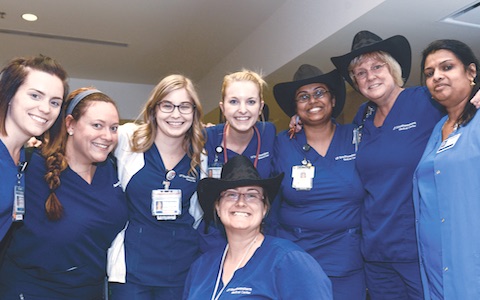 The Magnet designation strengthens UT Southwestern's ability to attract and retain the most talented nurses to care for patients. One aspect of the achievement entails having nurses incorporate research and evidence-based care into their practice, which leads to patients receiving the most up-to-date care and furthers the Medical Center's research mission. For example, one research project on post-chemotherapy patients by Linda Chan, BSN, RN, OCN, examined the effects of extended home care precaution education. The study's outcomes have been modeled nationally as a best practice.
"This organization has worked so hard to get to this point," said Victoria England, Director of Nursing Excellence/Magnet at UT Southwestern. "We literally went from zero nurse-led research projects to 43 in less than five years."
UT Southwestern is already thinking of the future, having made a commitment to helping nurses achieve advanced degrees. By 2020, the goal is for 80 percent of UTSW's bedside nurses to have a Bachelor of Science in Nursing (BSN) degree or higher. Today, 70 percent of UT Southwestern nurses have a BSN and 234 nurses have advanced practice certifications or degrees.
News of the Magnet designation came on July 20, 2016, when UT Southwestern nurses gathered at William P. Clements Jr. University Hospital for a "special announcement" – a prearranged call notifying UT Southwestern whether it would receive Magnet designation
Executives in attendance included Vice President and CEO of University Hospitals Dr. John Warner, Chief Nurse Executive Susan Hernandez, and Ms. England.
During the call, Dr. Donna Havens, Chair of the Commission on Magnet Recognition, noted that UT Southwestern had achieved an impressive five "Exemplars" of processes worthy of being emulated by others on the journey to excellence.
Afterward, Ms. Hernandez addressed the crowd. "Thank you to everybody we have worked with on this journey," she said. "This is you. This is your work. We did it together as a team. And what it shows is this journey is not about an individual. Because if it were, we couldn't have pulled it off. Think back to everything you've done, and don't let it stop. Keep going, and celebrate your work."
Ms. Hernandez then called on Dr. Warner, who holds the Jim and Norma Smith Distinguished Chair for Interventional Cardiology, and the Audre and Bernard Rapoport Chair in Cardiovascular Research.
"I am proud of our nursing colleagues who led this effort, and of the thousands of others across our organization – doctors and staff at every level and in every discipline – whose teamwork and commitment resulted in our earning Magnet designation," Dr. Warner said. "This is an exciting achievement for UT Southwestern University Hospitals, and is especially meaningful for our patients. The enriched nursing practice environment of Magnet organizations has been shown to drive the delivery of higher-quality care, and our new Magnet status underscores our own commitment to providing our patients and their families with truly exceptional care."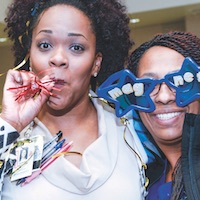 The announcement led to celebrations across campus – at Clements University Hospital, Zale Lipshy University Hospital, the Harold C. Simmons Comprehensive Cancer Center, Professional Office Building 2, and elsewhere. Members of patient care teams and administrators at Clements University Hospital cheered, blew noisemakers, and bounced beach balls in jubilation.
After the event, Ms. Hernandez said, "Receiving the Magnet designation is a tremendous honor, but our journey doesn't end today. It continues every day, as we strive to keep raising the bar for a higher standard of excellence in patient care."