Lots of smiles and dreams made on Match Day
As the digital clock on the basketball court of the Bryan Williams, M.D. Student Center counted down to zero, 221 graduating UT Southwestern medical students waited in anticipation, each clutching an envelope. In medical schools across the country, thousands more students were simultaneously doing the same, waiting for the exact moment – 11 a.m. CST – to rip open their envelopes and reveal their future.
Match Day 2017 fell on St. Patrick's Day, March 17, adding an extra level of festivity to the air, and perhaps even some good luck to the annual residency program matching ceremony.
During the fourth year of medical school, each student applies and interviews at a dozen or more residency programs in their desired specialty. The students and the programs rate each other, and a computer algorithm administered by the National Resident Matching Program determines the highest match. Married couples or committed partners can link their rank (preference) lists so that they are able to ensure they match in the same location. Of the 221 who matched, 65 will have residencies at UT Southwestern hospitals.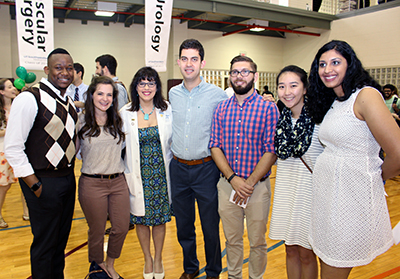 For 2017, the top five residency specialties selected by our graduates were:
Internal Medicine
Pediatrics
Emergency Medicine
Psychiatry
Radiology
"Match Day is the most exciting and emotional day of the year," said Dr. Angela Mihalic, Associate Dean for Student Affairs. "I'm very proud of the accomplishments of the Class of 2017 and I look forward to seeing the great advancements they will one day make in medicine, and to hearing about the countless lives that they will touch throughout their careers."
Every medical student has a compelling story. A few students from the Class of 2017 shared with My UTSW their thoughts about their future careers in medicine.
For a full list of the students and their matches, visit the Match Day list.
Andres Guerra and Simer Grewal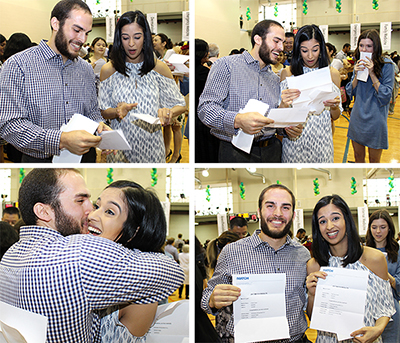 Andres Guerra and Simer Grewal first locked eyes in anatomy lab. Yet it wasn't until a year later, as second-year medical students, that their paths would cross again while serving on a student committee. Today, they are engaged and have couples matched to Northwestern University. Ms. Grewal matched in interventional radiology and Mr. Guerra in vascular surgery.
A Fort Worth native and UT Austin graduate, Ms. Grewal's passion for medicine began in high school. When she was 16, she shadowed doctors at Parkland and excelled in the Texas Academy of Mathematics and Science (TAMS) program. She says her time at Parkland introduced her to medicine – a field of science that combined her passion for helping people with academic research. Then, at UT Southwestern, she saw that interventional radiology was a balance of patient-centered care and ongoing scientific discovery, which attracted her to that specialty.
"Interventional radiology is the cutting edge of medicine without the cutting," Ms. Grewal said. "I love how it's at the frontline of innovation and research and also has the hands-on aspect of surgery. I also want to work in an academic research center – I want to always be at the forefront of discovery and innovation and to push the boundaries of what we can do for our patients."
Mr. Guerra, a Houston native, was a Division I platform diver with an interest in sports medicine and physiology as a student at the University of Arizona. Family ailments, including his mother's multiple myeloma diagnosis, exposed him to the lifesaving power of medicine.
"My mom spoke so highly of the physicians that took care of her – I wanted to emulate them," he said. "I volunteered at a children's hospital and I was lucky to get to watch an open heart operation. That was the 'ah-ha' moment, the culmination of witnessing the collegial vibe in the OR, the complicated pathophysiology, and the acute satisfaction of seeing the results of a surgery – how it affects a patient's life."
Mr. Guerra also envisions a career in an academic setting, but wants to balance it with community work. "I'm fluent in Spanish and I want to use that skillset. A large number of the patients served at Parkland are Spanish-speaking. I found that once the language barrier is removed, patients are quicker to trust you and are more open to receiving care. It makes you feel good about what you're doing – and reminds you of why you're in medical care."
The couple agrees that they were both attracted to each other's optimism and positivity. They both love the outdoors, exercise, and their two dogs. They cherish their families and each have a close sibling in the medical field: Mr. Guerra has a fraternal twin brother graduating from UT Medical Branch in Galveston, also matching in surgery, and Ms. Grewal's older sister is a dentist.
"We're almost like the same person. We have similar tastes and we're able to relax together with our common interests. Even our chosen medical fields are similar," he said.
"We're both career-driven people," she added. "He understands what I'm going through at the end of the day, and vice versa. We pitch in, we share everything, and we hold no expectations. We just help each other."
Ramu Kharel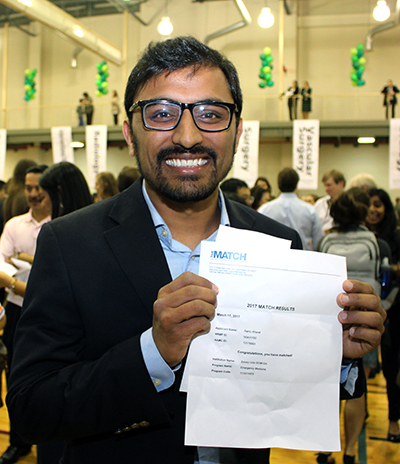 Ramu Kharel's path to Match Day began with a stroke of luck. As a 7-year-old living in a small village in Nepal, his father won a lottery for an immigrant visa to become a permanent United States resident.
Mr. Kharel resettled in Houston with his parents and two siblings and set a goal for himself to become a doctor. To balance out the long road ahead of science courses, he majored in liberal arts at UT Austin and spent a year studying abroad in India, where he worked in impoverished neighborhoods.
"Studying literature helped me to be a better doctor," Mr. Kharel said. "Through the lens of liberal arts, you understand people better. Medicine is about people. Healing can be done through communication, touch, empathy, and understanding. By being able to stand in someone else's shoes – you are able to better care for them. Through studying and thinking of the world through poetry – I strive to better understand suffering."
In 2015, Nepal was struck by a massive earthquake. Many communities were devastated, including a village that Mr. Kharel, with a team of UTSW students, had recently visited to spread hand hygiene awareness. The tragedy inspired him to develop skills for disaster response, so he took a year off between his third and fourth year of medical school at UT Southwestern to earn a master's degree in Public Health at Harvard Chan School. He also fundraised more than $20,000 and gathered medical supplies to ship to Nepal.
On Match Day, Mr. Kharel matched to a residency in Emergency Medicine at Emory University School of Medicine. His vision as a doctor is to combine emergency management with his public health master's degree to improve international disaster and health system planning.
"Disaster response is an opportunity to identify and fix systemic problems," Mr. Kharel said. "We're trending toward a more disaster-prone world, from Hurricane Katrina to the Nepal earthquake, and there's a need for better disaster planning and health-system building around the world. I want to affect policy change to create better systems."
Juan Sosa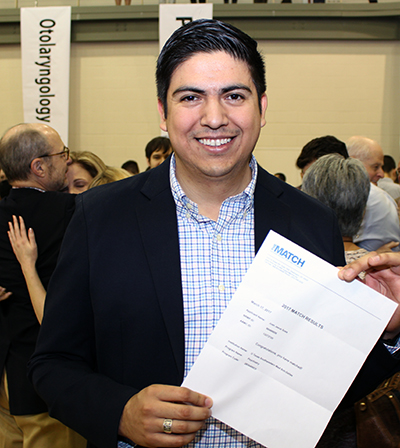 Juan Sosa wants to build mental health bridges. At Match Day he matched in Psychiatry to UT Southwestern and plans to devote his medical career to expanding access of mental health services to the underserved Spanish-speaking community. He came to this realization after years of volunteering for North Dallas Shared Ministries, where he saw firsthand the disparity of mental health services in minority communities, especially a lack of Spanish–speaking mental health professionals.
"I really envision myself as a community psychiatrist for an underserved community," Mr Sosa said. "I want to use my assets to build a bridge between psychiatric care and the Spanish–speaking community. I plan to be an advocate for them."
The second youngest of six children and the first of his family to graduate from college, Mr. Sosa spent his childhood in Santa Monica, California and Central Mexico. When he was in middle school, his family moved to Texas. While they were successful small business owners, his family did not have medical insurance. Mr. Sosa says he developed a fear of getting sick and going to the doctor, due to the cost. This experience motivated him to volunteer for those underserved in health care.
As he pursued his undergraduate degree in Biology at UT Dallas, both of his parents became ill and he found himself juggling his studies and taking his parents to doctor appointments. He says that the physicians he met showed such empathy and dedication to helping his parents, that it inspired him to study medicine.
"I was drawn to psychiatry because of the opportunity to get to know a patient on a deeper level," Mr. Sosa said. "There's a challenge of establishing trust with a depressed or schizophrenic patient. Once you've achieved that, you work to build on that trust and to understand who they are as a person and their story. I'm a believer that a person's story shapes who they are today. I want to help them reshape their future and their life path."
Nia Stallworth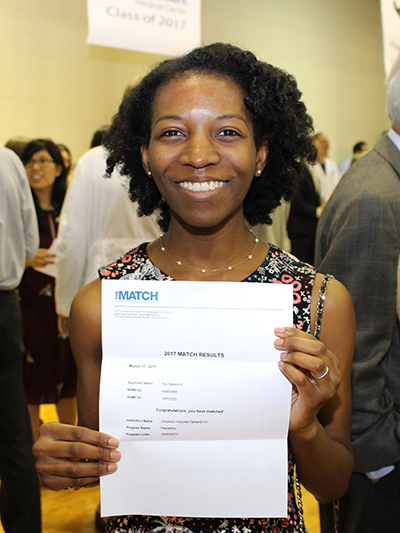 Nia Stallworth thinks about joy a lot. She finds joy in dancing, and she even met her husband on a dance floor. She also finds joy through cooking for friends, and adventurous travel. She likes to spread joy too. Instead of conforming to the drab black support shoes required in the hospital environment, she tracked down a cheerful, hot pink pair. She also finds joy in a child's laugh and a teenager's wry wit – which is what attracted her to a career in pediatrics.
"In medical school, I found that I like working in the children's hospital," said Stallworth. "While there's a lot of suffering, there's also a lot of joy. I like the brightness and cheer of the environment. I love working with children; I love their personalities and I discovered that I'm really good at talking to adolescents."
A Houston native and a graduate of Wellesley College in Boston, Mrs. Stallworth's interest in science began when she was young. While dancing was a passion of hers (she was accepted to a prestigious performing arts high school), she decided to follow her instincts and chose instead to attend a health professions-focused school.
As a high school senior, she shadowed physicians in the level-two nursery. She says she fell in love with the problem–solving that medicine entails and liked the idea of taking care of children through their first 18 years of life.
On Match Day, Mrs. Stallworth learned that she matched at Children's Hospital Oakland, California in pediatrics. She liked the program because of its strong advocacy for primary care.
She says she hopes to become a role model for the children she meets, especially minority girls. "I never met a doctor that looked like me while I was growing up," she says. "I only knew I could be a doctor because my parents told me I could and they believed in me. I want to show girls that they can be scientists and doctors, too."
For more Match Day coverage and student stories and photos: