Surgical teams perform North Texas' first lung-liver transplant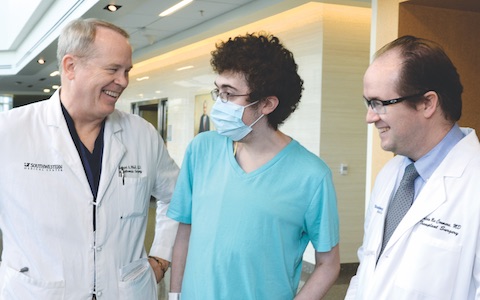 Surgeons at UT Southwestern's William P. Clements Jr. University Hospital made lifesaving history last year with their successful completion of the first combined lung and liver transplant in North Texas.
The transplant recipient, 25-year-old Josiah Ferrell of Gainesville, also became the 76th patient nationwide to receive the rare double-organ transplant. Mr. Ferrell has cystic fibrosis, a genetic disease that results in thick, sticky mucus that builds up in the airways of the lungs and in other organs.
"UT Southwestern wants to be – and continues to be – at the forefront of complicated surgeries such as this," said Dr. Fernando Torres, Professor of Internal Medicine and Medical Director of Lung Transplantation at UT Southwestern. "Given our expertise in transplantation, we are able to help patients with difficult situations like this that other centers might not accept."
The first dual lung and liver transplant was performed in 1994, and until this surgery, only 74 combined lung and liver transplants had been completed in the U.S., based on the latest available data from United Network for Organ Sharing (UNOS), the nonprofit organization that manages the nation's transplants. UT Southwestern, one of the leading medical centers in the country in lung transplants, has performed more than 60 lung transplants each year for the last four years, and more than 500 lung transplants overall, ranking the Medical Center in the top 10 among all the centers in the country that are currently performing lung transplants, according to UNOS.
Orchestration of the 12-hour, dual-team surgery on Jan. 13, 2016, involved more than a dozen physicians and other team members – one team to remove and replace the lungs, and a second to remove and replace the liver.
Time also was a critical factor – as it is for all transplants – because there's a need to minimize the amount of time between organ removal and organ transplant, and minimize the amount of time the new organs are outside the body. For that reason, the team of experts decided to remove one lung and complete that transplant operation before removing the second lung. That way, the team would avoid having to put Mr. Ferrell on a heart-lung bypass machine.
"The lungs were implanted without much of the difficulty we had anticipated and planned for, and the transition from lung to liver transplant was seamless," said Dr. Michael Wait, Professor of Cardiovascular and Thoracic Surgery at UT Southwestern, who performed the lung transplant. Dr. Wait is also Chief of the Cardiovascular and Thoracic Surgery Service at Clements University Hospital.
Fellow transplant surgeon Dr. Malcolm MacConmara, Assistant Professor of Surgery, who performed the liver transplant, was equally pleased by the success of the liver teams.
"The surgery had to be carefully planned and coordinated. You have two different surgical teams – the thoracic team putting in the lungs and the abdominal team putting in the liver – and it all has to be carefully thought out in advance," said Dr. MacConmara, who is dually trained in transplant surgery and immunology.
While lung disease is present in more than 95 percent of patients with cystic fibrosis, liver disease affects only about 25 percent of CF patients, and liver cirrhosis occurs in only about 8 percent, according to Dr. Raksha Jain, Assistant Professor of Internal Medicine and Medical Director of the Adult Cystic Fibrosis Program at UT Southwestern. Dr. Jain, a Dedman Family Scholar in Clinical Care, has been part of Mr. Ferrell's care team since he first came to UT Southwestern in 2013.
Despite doing everything his UT Southwestern physicians asked of him, Mr. Ferrell's lungs and liver were failing and needed to be replaced. On the evening of Jan. 12, 2016, Mr. Ferrell got a call that a donor for both organs had been found.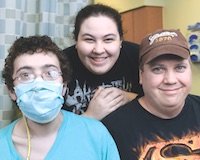 The surgery began at 7:51 a.m. the next day at Clements University Hospital. The first team successfully removed one lung, replaced it, took out the second lung, and replaced it. Then the liver transplant surgery team stepped up, using a piggyback technique that leaves in place an important vein that returns blood from the abdominal organs to the heart, which helped keep Mr. Ferrell stable. The liver team completed its transplant at 6:35 p.m. and the thoracic team closed his chest at 7:55 p.m. Mr. Ferrell was discharged from the hospital on Feb. 5, stayed in the Dallas area for close monitoring over the next two months, then returned home in April 2016.
For the first time in two years, Mr. Ferrell is now able to walk outside without use of an oxygen tank and to breathe in fresh outdoor air.
"I feel pretty good now. I have more energy," Mr. Ferrell said. "I'm interested in studying computer programming or engineering, and I'd like to visit Japan someday. I'd like to see the cherry blossoms. The cherry trees bloom for one week."
Orchestrating a Rare Lung-Liver Transplant
7:51 a.m. Lung transplant surgery begins
10:32 a.m. Transplantation of left lung is completed
11:40 a.m. New right lung placement begins
12:26 p.m. Transplantation of right lung is completed
1:18 p.m. Liver transplant team begins surgery
6:35 p.m. Liver transplant team completes surgery
7:55 p.m. Thoracic team closes the patient's chest, completing surgery