A father's heart attack transforms a daughter's taxing life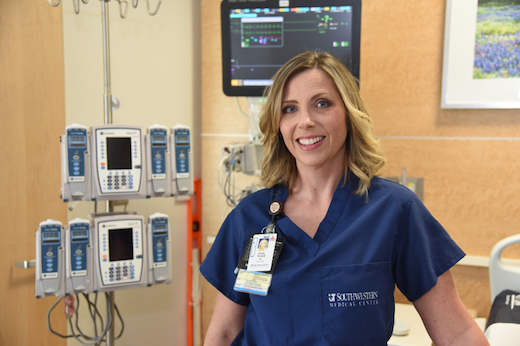 Emily Pickett was just sitting down at home to a fast-food burger — a quick dinner after a full day at her job as a tax consultant. Then the call came.
Her father had suffered a heart attack, and was coding in a Hillsboro, Texas emergency room.
"In the cath lab, the doctors found he had a clot to the left anterior descending artery," Mrs. Pickett says, adding that these types of blockages are referred to as "widow-makers," because of the high mortality rate associated with them.
He coded several times, and it was touch and go for a while, but her dad ended up making a full and complete recovery.
Mrs. Pickett says her dad's only risk factor was high cholesterol. "But he refused to take the cholesterol medication. He was a rancher, so he was very physically active, not overweight," she says. "But he loved his chicken-fried steak."
The whole experience, which happened in 2006, was a game-changing wake-up call for Mrs. Pickett. She admits that she'd fallen into an unhealthy lifestyle, and says she was 40 pounds overweight. "I had given birth to two babies, 18 months apart, and I was trying to work a full-time job as a tax consultant. By the time I would get home, it was super-easy to run through the drive-thru for a quick dinner."
By happenstance, just around that time, her husband got a one-year job assignment in London. So she quit her job, and six weeks after her dad's heart attack, she, her husband, and her 2-year-old son and 3-year-old daughter moved overseas.
She joined a gym that had a nursery, and for an hour every morning, she would work out.
"In England, fast food is almost nonexistent," Mrs. Pickett says. "I started cooking at home all the time — a lot of fresh fruits and vegetables, lots of lean meats, chicken, and turkey. I ended up dropping 40 pounds, and my husband lost 30 pounds. It was the boost we needed to get a more heart-healthy lifestyle going."
But her transformation didn't end there.
Until she quit her job, she hadn't realized how unhappy she was. "I sat behind a desk all the time, and I wasn't helping anyone. I was unfulfilled," she says. "I had no significant impact on anyone's life, including my own. I thought: 'If I were to die tomorrow, they would not miss me. They would just get another warm body in there.'"
While still in London, a plan began to marinate in her mind. What if she became a nurse?
"I was so impressed and grateful to the CVICU nurses that helped my dad," she says. "My dad can still tell you the names of almost all of the nurses he had. He can tell you their stories, their schools — he can tell you that a nurse named Ophelia came and gave him his first bath.
"It really touched me when I saw how well they took care of him, and the impact they had on him."
She thought a career path in nursing fit her personality better, and her husband agreed that it was her turn to follow her passion. In 2009, she started nursing school at Texas Woman's University.
During her nursing school clinicals, she got a rotation in the CVICU at UT Southwestern's St. Paul University Hospital, and she got to take care of a lung transplant patient.
"I was absolutely hooked," she says.
Bringing Compassion to the Bedside
Mrs. Pickett, B.B.A., B.S.N., R.N., has now worked at UT Southwestern for six years. She currently works in the Cardiovascular Intensive Care Unit (9 South) at William P. Clements Jr. University Hospital.
"It was really hard at first, because I would have to relive that trauma," Mrs. Pickett says. "But I had to figure out how to turn it around and give back like the nurses who gave of themselves so freely when my dad was sick."
She says she can definitely empathize with family members whose loved ones have suffered a cardiac event. "I know how they feel," she says. "I feel able to comfort them, because when you're caring for patients who are as sick as our patients are, it's not just the patient in the bed, it's the whole family. Taking care of the family is part of taking care of the patient."
As for her other transformation — that healthier lifestyle — Mrs. Pickett says the changes were drastic for her, but well worth it. "My best advice is to concentrate on what you need to eat, instead of what you can't eat. If you have five servings of fruits and vegetables a day, you won't be as hungry for that doughnut," she says.
In addition to diet and annual physicals, she says it's also important to get busy with activities the whole family will enjoy. "Ride bikes with your kids," Mrs. Pickett says. "Go to your local hike-and-bike trail, get out and do things as a family. Heart-healthy habits start early, so it's important to teach your kids good eating habits and model consistent exercise routines.
Aside from the geography of her London-based epiphany, Mrs. Pickett's transformation isn't uncommon among CVICU nurses, says her manager, Melinda Kimmons, B.S.N., R.N., CCRN-K.
"As far as getting healthier, I've seen many people on the unit do that," Ms. Kimmons says. "For about a year and a half now, we've had walking contests with fitness trackers, and they're really popular."
And, she says, people are often drawn to CVICU for reasons similar to Mrs. Pickett's.
"What Emily is passionate about does hit home with a lot of my staff," Ms. Kimmons says. "It brings their compassion to the bedside because they've lived through it, in either a personal or family experience, so they're able to relate to the patient so much better. Many patients contact Emily and other staff before they even leave the ICU. They say: 'I wanted you to see me before I went home. I wanted you to know I was OK.'"
And exchanges like that are exactly why Mrs. Pickett knows she's found her calling. "Tax consulting is a cutthroat field, and that environment didn't fit my personality," she says. "At UT Southwestern, I get to genuinely care for people, and it's encouraged. I'm finally where I belong."
—Heather Svokos