Widow on a mission to attract minorities to clinical studies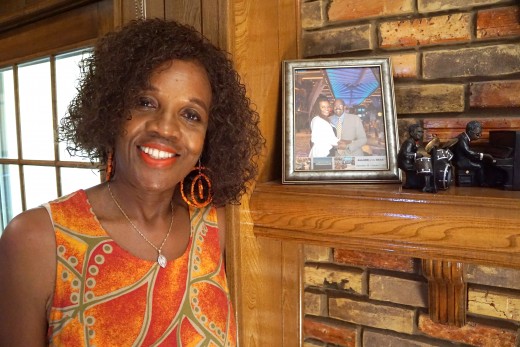 By James Beltran
Phyllis Jefferson read every dementia study she could after her husband was diagnosed with the disease.
She attended support group meetings and sought answers from doctors on how best to treat the condition.
What medicines could help? Would they be safe to take with the cocktail of other medications he was prescribed for his previous kidney transplant?
To Mrs. Jefferson's surprise, doctors couldn't definitively answer many of her biggest questions, particularly how certain treatments have affected other African-Americans like her husband.
The problem? Not enough minorities are participating in research designed to learn more about a disease that has no known cure and has a higher risk of developing in African-Americans.
"There is so much ignorance about the disease," said Mrs. Jefferson, whose husband died last year at age 67 after battling dementia for less than five years.
Mrs. Jefferson is now taking up the battle against Alzheimer's and other dementias in a new way as part of a UT Southwestern Medical Center's Alzheimer's Disease Center community advisory committee that reaches out to African-Americans to encourage minorities to participate in studies. Although her husband received treatment elsewhere, Mrs. Jefferson is also volunteering for some of the Center's clinical trials as a control subject who doesn't have the disease.
"If I can say that I participate in clinical studies, it may encourage other people of color to participate," said Mrs. Jefferson, a Dallas resident and CEO of P. Jefferson Consulting Services in Dallas.
Like many research institutions across the country, UT Southwestern aims to boost the number of minorities who participate in Alzheimer's studies. Part of that effort includes the advisory committee, which is run through UTSW's Brain Smart University community outreach project and holds public panel discussions every few months.
To date, African-Americans and Hispanics comprise 14 percent of participants in UTSW dementia studies. Nationally, dementia studies have about 20 percent representation from these groups, according to the National Alzheimer's Coordinating Center.
"It's really in its infancy, in terms of our understanding of cognitive disorders among diverse cultural groups," said Dr. C. Munro Cullum, Professor of Psychiatry, Neurological Surgery, Neurology and Neurotherapeutics, and Rehabilitation Counseling, who holds the Pam Blumenthal Distinguished Professorship in Clinical Psychology.
Dr. Cullum said numerous factors that may alter how dementia affects minority patients have yet to be researched with enough data to draw solid conclusions, including those with co-existing conditions such as kidney disease, as Mrs. Jefferson's husband had. He was a kidney transplant recipient for 22 years before being diagnosed with dementia.
"There just aren't enough patients that fall into that category for us to even know what the implications are at this stage," he said.
Dr. Cullum, also Chief of the Division of Psychology, Director of the Neuropsychology Program at UT Southwestern, and a Clinical Core Leader in the UTSW Alzheimer's Disease Center, attributes the shortage of minority participants, in part, to a lack of awareness among some who don't recognize symptoms of the disease and, therefore, don't approach doctors for help.
Mrs. Jefferson said others are simply reluctant to volunteer.
"If we're going to find a cure, we're going to have to start trusting the medical industry to do that," Mrs. Jefferson said. "And so by having a panel of African-Americans at these educational opportunities, when they hear our story they're more likely to believe us."
Witnessing the quick demise of her husband, Theodore Jefferson Jr., motivated her to spread the word in her church and the community about the need for minorities to help doctors understand Alzheimer's – a disease twice as likely to develop in African-Americans as in whites.
She recalls her anxiety after her husband's diagnosis in 2011 and watching his symptoms gradually worsen from forgetfulness to confusion. Before her eyes, the man she'd been married to for 36 years was disappearing. Then in March 2015, she had to put him in a memory care center, where he lived another five months – far short of the decade or longer that some dementia patients live.
Mrs. Jefferson's new mission is to help UT Southwestern educate the public and get doctors the data needed to help the next Theodore Jefferson Jr. survive longer, or perhaps – one day – beat Alzheimer's.
"Until I was on this journey," she said, "I did not realize how cruel this disease was."
###
Get Involved
Who is needed: People with no memory issues, mild cognitive impairment, or early Alzheimer's are all needed for observational studies.
Commitment: Usually one visit a year for neuropsychological testing, neurological exams, brain imaging, and blood sampling.
For more information:Call Sarah Brisebois at 214-648-0563.