UT Southwestern residency programs ranked among nation's best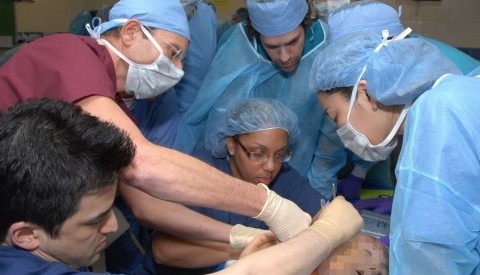 The most sought-after plastic residency program in the country is right here at UT Southwestern, according to U.S. News & World Report, which also ranks four other UTSW residency programs among the top 10 nationwide. At UT Southwestern, striving to be the best of the best is a long-standing tradition, which translates from medical student education to clinical practice.
The plastic surgery residency program, ranked No. 1, is a perfect example of how educating the next generation of caregivers bolsters UT Southwestern's other two interconnected missions – providing excellence in patient care and advancing research to prevent, treat, and cure disease.
"That program is a unique balance of cosmetic surgery and reconstructive surgery, and it has been very productive from a scholarly standpoint. The faculty members are very well-published and well-represented nationally," said Dr. Bradley Marple, Associate Dean for Graduate Medical Education, and Professor and the Chair of the Department of Otolaryngology-Head and Neck Surgery.
U.S. News & World Report ranked four other UTSW residency programs in the top 10 nationally: Obstetrics and Gynecology, one of the largest OB residency programs in the country, at No. 6; Urology, No. 8; Dermatology, No. 9; and Internal Medicine, No. 10.
"We are gratified by this recognition of the quality of the training provided to UT Southwestern residents, as well as the underlying strengths of the dedicated faculty who provide their expertise in educating new generations of physicians. One of UT Southwestern's most satisfying missions is developing top-notch physicians who will translate the skills they acquire here into the best care available to patients," said Dr. Greg Fitz, Executive Vice President for Academic Affairs and Provost, and Dean of UT Southwestern Medical School. Dr. Fitz holds the Nadine and Tom Craddick Distinguished Chair in Medical Science, and the Atticus James Gill, M.D. Chair in Medical Science.
"Obviously we're proud of these rankings. It recognizes the quality of the education that is provided and the quality of the patient care that is delivered through our residency programs," said Dr. Marple, who holds the Arthur E. Meyerhoff Chair in Otolaryngology/Head and Neck Surgery. "Recognition such as this reflects, in part, the commitment of our hospitals, clinics, faculty, and staff to providing Graduate Medical Education in a setting of uncompromising patient safety, quality of care, and professionalism."
UT Southwestern residency programs can include rotations through William P. Clements Jr. University Hospital, Zale Lipshy University Hospital, Parkland Memorial Hospital, Children's Medical Center, the Dallas Veterans Affairs Medical Center, and more. And the new integrated health network to be created by UT Southwestern and Texas Health Resources opens up even more opportunities for training young physicians in their chosen specialties.
In the current program year, 968 young physicians are training in 24 accredited residency programs, and 395 fellows are furthering their clinical experience in 124 programs.
The U.S. News & World Report rankings, conducted in conjunction with physician referral network Doximity, is the first comprehensive national study of residency programs, according to the journal. The evaluations of 3,691 medical and surgical residency programs was assessed through more than 50,000 peer nominations from board-certified physicians.
Other top-rated UT Southwestern residency programs on the list and their national rank include Surgery, No. 12; Neurology, No. 17; Neurological Surgery, No. 18; Nuclear Medicine, No. 19; Otolaryngology-Head and Neck Surgery, No. 20, Pediatrics, No. 23, Diagnostic Radiology, No. 24, and Physical Medicine and Rehabilitation, No. 24.