Mary Kay Foundation Professorship honors Jerry Shay, Ph.D.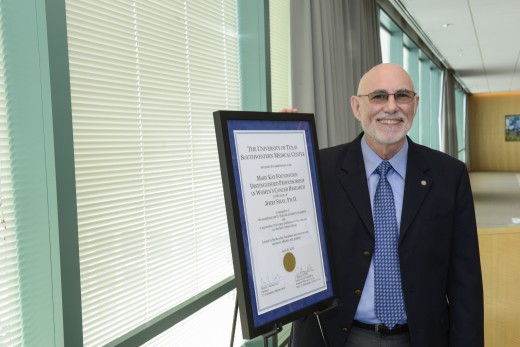 By Remekca Owens
Recognizing one of UT Southwestern Medical Center's well-respected researchers for his vision and guidance, The Mary Kay Foundation recently donated $250,000 to establish the Distinguished Professorship in Women's Cancer Research in Honor of Jerry Shay, Ph.D.
Ryan T. Rogers, Chief Investment Officer of Mary Kay Inc. and Board Member of The Mary Kay Foundation, presented Dr. Jerry Shay with the honor at a June 20 luncheon held at UT Southwestern.
"For the last two decades, Dr. Shay has tirelessly served the cancer community as Chair of The Mary Kay Foundation Research Review Committee," Mr. Rogers said. "By establishing this distinguished professorship, we hope to show our sincere appreciation to Dr. Shay and the UTSW community for his help in shaping the Foundation's research portfolio, which has worked to improve lives around the world. With Dr. Shay leading the blind, peer-review process, the Foundation has invested $23.5 million in research dedicated to ending women's cancers."
"I am deeply moved and humbled that my friends and colleagues of The Mary Kay Foundation have created this distinguished professorship in my honor," Dr. Shay said. "As a scientist, I have dedicated my career to unlocking answers to the complicated interactions between aging and cancer. The support of grant funding is critical at every stage of research, and it has been very rewarding to partner with the Foundation to help guide its grant portfolio in an effort to fund the most promising ideas in women's cancer research."
Dr. Shay holds numerous U.S. patents and is the recipient of multiple prestigious awards. He is Professor and Vice Chairman in the Department of Cell Biology and Chair of the Cancer Biology Graduate Program at UT Southwestern. Along with his collaborator, Dr. Woodring Wright, Professor of Cell Biology and Internal Medicine, Dr. Shay's seminal work on the relationships of telomeres and telomerase to aging and cancer is well recognized. Dr. Shay was named by the Institute for Scientific Research as one of the most highly cited scientists in the field of molecular biology and genetics. Thomson Reuters ScienceWatch included Dr. Shay on its "Doctors of the Decade" list and ranked him as one the most cited authors in the area of general biomedicine.
Dr. Shay, a Distinguished Teaching Professor at UT Southwestern, has received awards through the years that include: the UT System Regents' Outstanding Teaching Award in 2012; designation as a Piper Professor by the Minnie Stevens Piper Foundation in 2013; and the Distinguished Basic Science Educator Award at UT Southwestern in 2015.
"UT Southwestern is grateful to The Mary Kay Foundation for its ongoing partnership in furthering innovative research projects that bring us closer to improved treatments for women's cancers. This distinguished professorship is further testimony to Dr. Shay's decades-long commitment to cancer research at the UT Southwestern Harold C. Simmons Comprehensive Cancer Center and to the commitment of The Mary Kay Foundation to improving the health of women," said Dr. Daniel K. Podolsky, President of UT Southwestern.
###
Dr. Podolsky holds the Philip O'Bryan Montgomery, Jr., M.D. Distinguished Presidential Chair in Academic Administration, and the Doris and Bryan Wildenthal Distinguished Chair in Medical Science.
Dr. Shay and Dr. Wright share The Southland Financial Corporation Distinguished Chair in Geriatrics.