Recognizing milestones in leadership and accomplishment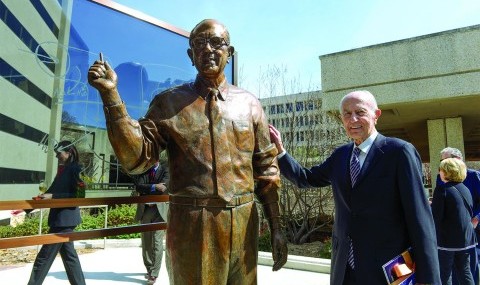 A Celebration of Leadership – Dr. Donald W. Seldin Honored

UT Southwestern unveiled a life-sized bronze statue of Dr. Donald W. Seldin at a celebration dedicating the renovated plaza at the center of campus named in his honor.
As a lasting tribute, the Dr. Donald Seldin Plaza recognizes the legendary leadership and accomplishments of Dr. Seldin, UT Southwestern's Chairman Emeritus of Internal Medicine and UT System Professor of Internal Medicine, who holds the William Buchanan Chair in Internal Medicine.
In April, the American Society for Clinical Investigation (ASCI), one of the nation's oldest medical honor societies, announced the creation of the Donald Seldin-Holly Smith Pioneering Research Award. The honor, established to support young physician-scientists at the early stages of their careers, was announced during the ASCI/Association of American Physicians (AAP) joint annual meeting in Chicago. Physician-scientists work to translate research findings into clinical advances.
In May, the Texas Medical Association (TMA) bestowed its highest honor – the 2015 Texas Medical Association Distinguished Service Award – on Dr. Seldin in recognition of his career, now in its seventh decade. A major figure in the emergence of nephrology as a discipline, Dr. Seldin is founder of the American Society of Nephrology, one of seven learned societies around the world to which his peers have elected him president. He also holds six honorary doctorates, including one from Yale University and another from the Université de Paris VI, Pierre et Marie Curie.
Building Named in Honor of Dr. C. Kern Wildenthal's Lasting Contributions
In March, UT Southwestern's newest biomedical research building was named in honor of Dr. C. Kern Wildenthal, President Emeritus and Professor of Medicine Emeritus, who served more than two decades as UT Southwestern's second President before becoming President of Children's Medical Center Foundation and Executive Vice President of Children's Health System of Texas.
The 12-floor, 331,400-square-foot, $216 million C. Kern Wildenthal Research Building, at 6000 Harry Hines Blvd., is home to state-of-the-art laboratory space that includes the Children's Research Institute at UT Southwestern, and laboratory space for the Departments of Neurology and Neurotherapeutics, Dermatology, Microbiology, and Cell Biology. The building also houses offices for UT Southwestern's Graduate School of Biomedical Sciences' Rolf and Ute Haberecht Administration and Academic Center.
Parkland Memorial Hospital Begins a New Era

Parkland Health & Hospital System, UT Southwestern's long-standing partner in education and patient care, celebrated the opening in August of Dallas County's new Parkland Memorial Hospital.
Staffed by UT Southwestern faculty, the new hospital is located on the northeast corner of Harry Hines Boulevard and Medical District Drive, across from the former building that opened in 1954.
The new 2.1-million-square-foot, 862-bed, 17-story hospital features the latest in healing concepts, quality, and safety design. Nearly twice the size of the former hospital, Parkland remains one of the busiest public hospitals in the nation, with more than 1 million patient visits each year.