Meet Donna Ivery, Day Operations Supervisor for Environmental Services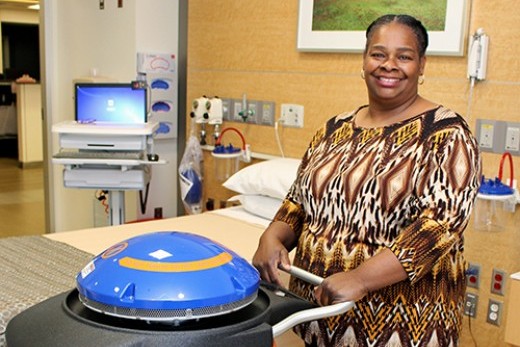 As a tip of the hat to Environmental Services Week, which runs Sept. 11-17, we are highlighting Donna Ivery, Supervisor of Day Operations for the Environmental Services Department — also known as Housekeeping. She's been with UT Southwestern since 2008, and has 20 years of experience in Environmental Services.
Directly responsible for EVS sustainability on units 7, 8 and 9, Ms. Ivery is recognized by her colleagues as a dedicated teammate whose work ethic and responsibilities are vital to unit cleanliness and the prevention of infectious disease.
Her teammate, Stevin Bessette, Operations Manager for EVS, adds that Ms. Ivery is refreshingly cool-headed in a line of work that can be fairly chaotic. "Donna is always a constant," Mr. Bessette says. "She always says: 'Take a deep breath — we can get through it.'"
We caught up with Ms. Ivery and asked her a few questions about her time on and off the clock.
As Supervisor of Housekeeping, tell me about what you do.
I coordinate schedules and vacation time, and I attend the morning huddles, where we discuss infection control reports, as well as the good and the bad — what we need to improve on. I also inspect rooms after patients are discharged and check to make sure the team is using the right procedures to clean the rooms.
Why are you proud to work at UTSW?
It's the patients. And I've done a part of that when I took care of my mom when she was ill. It really drew me closer to working with patients. I try to be here every day that I'm needed, and I try to help out. And if we're shorthanded, I'm in there, I'm working. If you need to be off, if I'm free — I got you — I will work. I try to be more of a team player with all three shifts.
Office nickname?
Miss D.
How do you contribute to the mission of UT Southwestern?
It ties into patient care, because the cleanliness of rooms is important for the health of our patients. It's very crucial, because it helps prevent infections. Without us, we would have a very dirty hospital.
Tell me about this big orange machine that you work with. It kind of looks like R2D2.
That's the Xenex machine. We run it to kill bacteria in rooms where we would have the sickest patients, like the heart and transplant rooms, and all of our ICU rooms. It emits an ultraviolet light that kills the bacteria, and nobody can be in the room while it's working. We have three of them, and they all have names. This one is Marge — it's right here on the nameplate — and we also have Vulcan and Giles.
What's the best part about working at UTSW?
The people I work with. They're a good bunch. I have a lot of people who come to talk to me not even about housekeeping stuff. Just about their life in general.
How about the challenging moments?
Some days are challenging, but most of my days here are good. It is nice to feel recognized. Some nurses say: 'Call Donna — she'll get it taken care of.' But I just look at it as part of what I do.
What would people be surprised to know about you?
I was a cheerleader in high school in Grandfield, Okla.
If you could have any job for one day, what would it be?
I would like to be a basketball coach. And I'm a Dallas Mavericks fan, so it would have to be for the Mavericks.
What's the most unusual job you ever had?
Making Mary Kay bags back in the early 1990s. Mary Kay had those pink bags with that long strap. Believe it or not, I put those long, pink straps together. It was OK, but you sit at this one machine, and it was the same pink bag every day. Here, every day is different.