In Memoriam - Dr. Alfred Goodman Gilman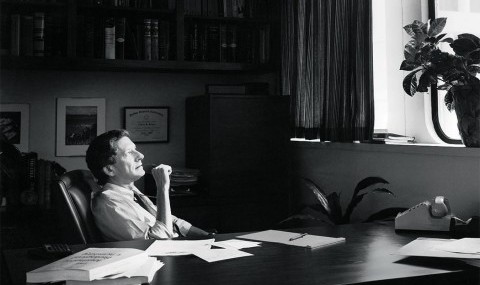 By Dr. David Mangelsdorf and Dr. Rama Ranganathan
On Dec. 23, Nobel Laureate Dr. Alfred Goodman Gilman – former Chairman of Pharmacology, Dean of the UT Southwestern Medical School, and Executive Vice President for Academic Affairs and Provost at UT Southwestern Medical Center – died peacefully at home after a long battle with pancreatic cancer. Although Dr. Gilman's contributions to science were extraordinary by all standards, anyone who trained or worked closely with Al knew him as much more than a brilliant scientist. His greatness extended equally to scientific leadership, to mentorship of young scientists, and to a relentless pursuit of scientific discovery.
Basic science and its application to medicine were in Al Gilman's blood from birth. Al was born on July 1, 1941 in New Haven, Conn., the same year his father, Dr. Alfred Gilman, along with Dr. Louis Goodman, published the first edition of the preeminent textbook, The Pharmacological Basis of Therapeutics. Years later, Al would continue his father's work as editor of the famous textbook through four subsequent editions.
He received a bachelor of science summa cum laude from Yale University in 1962 and his M.D. and Ph.D. degrees from Case Western Reserve University in 1969 under Dr. Theodore Rall, where his lifelong interest in understanding how cells perceive and process external signals began. Dr. Rall had previously contributed to the discovery of cyclic AMP, a key signaling molecule produced within cells in response to hormones such as epinephrine. Starting as a postdoctoral fellow in the laboratory of Nobel Laureate Dr. Marshall Nirenberg and then later in his own lab at the University of Virginia in Charlottesville, Al set out to elucidate the molecular components that linked hormone sensing to synthesis of cAMP. Together with Drs. Elliott Ross and Paul Sternweis, now Professors of Pharmacology at UT Southwestern, he purified the missing component from normal cells. This protein was called Gs, the first of what would become a large family of protein switches – G proteins – that control information flow in many other hormone- and light-mediated signaling events within cells.
Al's early successes led to his recruitment by indomitable forces – Drs. Donald Seldin, Kern Wildenthal, Michael Brown, and Joseph Goldstein – to come to UT Southwestern in 1981, where at the age of 40, he was appointed Chair of Pharmacology, a position he held for 25 years. He continued a remarkable progression of work that elucidated virtually every step in the G protein signaling cycle. The impact on basic biology and medicine was transcendent, and it led to a number of accolades, including election to the National Academy of Sciences (1985), the Albert Lasker Basic Medical Research Award (1989), and the Nobel Prize in Physiology or Medicine, which he shared with Dr. Martin Rodbell (1994).
Al was an exceptional scientist, but as junior colleagues who knew him closely, we would be greatly remiss if we stopped there. In addition to scientific excellence, he also built one of the finest basic science departments in the country – a place that was academically rigorous, highly productive, and fun. The underlying principle was the dictum, in his own words, "to hire only excellent people." The turn of phrase is subtle but important. It was not sufficient to merely have an impressive pedigree or to be a star scientist; it was also necessary to be a good communicator, to demonstrate citizenship, to be willing to teach, and to contribute to the quality of life within the Department. Al refused to weigh scientific quality against character, as if deficiencies in one could be counterbalanced by an overabundance of the other. The result was an unusually vibrant Department full of excellent people – in the Gilman sense – in which incisive professional criticism was supported and encouraged, but somehow always delivered in a manner that was cordial, respectful, and ultimately, productive.
In the final stages of his career, Al took on institutional leadership roles. In 2004, he was named Dean of UT Southwestern Medical School, and in 2006 he became Executive Vice President for Academic Affairs and Provost. In 2009, Al retired from UT Southwestern to become the Chief Scientific Officer of the Cancer Prevention and Research Institute of Texas (CPRIT), a job that he felt would permit him to use his talents of scientific insight, integrity, and institutional vision to fund one of the largest research efforts in the nation to battle cancer. True to his principles, this effort was characterized by rigorous scientific review, staffed by the best people in science, and was uncompromising in its goals of funding the best work. Anything less was unacceptable.
There are great scientists, and there are great human beings. Al, in rare form, was both. With his passing, one can hope that the principles of excellence "in the Gilman sense" will live on in good departments of biological research.
###
Dr. Brown, a Regental Professor and Director of the Erik Jonsson Center for Research in Molecular Genetics and Human Disease, holds The W.A. (Monty) Moncrief Distinguished Chair in Cholesterol and Arteriosclerosis Research, and the Paul J. Thomas Chair in Medicine.
Dr. Goldstein, a Regental Professor and Chair of Molecular Genetics, holds the Julie and Louis A. Beecherl, Jr. Distinguished Chair in Biomedical Research, and the Paul J. Thomas Chair in Medicine.
Dr. Mangelsdorf, Chair of Pharmacology and a Howard Hughes Medical Institute Investigator, holds the Alfred G. Gilman Distinguished Chair in Pharmacology, and the Raymond and Ellen Willie Distinguished Chair in Molecular Neuropharmacology in Honor of Harold B. Crasilneck, Ph.D.
Dr. Ranganathan, Director of the Cecil H. and Ida Green Comprehensive Center for Molecular, Computational, and Systems Biology, holds the Cecil H. and Ida M. Green Chair in Biomedical Science.
Dr. Ross holds the Greer Garson and E.E. Fogelson Distinguished Chair in Medical Research.
Dr. Seldin, Chairman Emeritus of Internal Medicine and UT System Professor of Internal Medicine, holds the William Buchanan Chair in Internal Medicine.
Dr. Sternweis holds the Alfred and Mabel Gilman Chair in Molecular Pharmacology.
Dr. Wildenthal is President Emeritus and Professor of Medicine Emeritus