Alliances expand UTSW's capability, patient care accessibility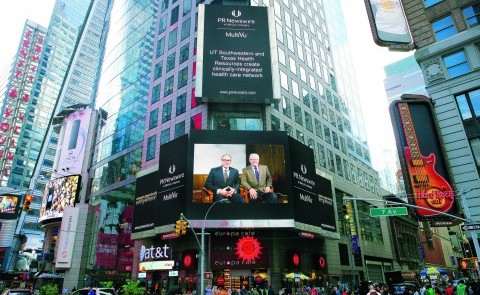 In today's highly competitive health care environment, patients and payers have increasingly high expectations of health care providers. They expect greater accountability, transparency, efficiency, quality, and safety. They also prefer providers who have the depth and breadth to address the wide range of health care needs of a diverse and growing population. This evolving landscape is driving change throughout the health care industry – and at UT Southwestern.
In 2015, UT Southwestern took a major step to expand its scale and clinical capability. Backed by the endorsement of our respective oversight boards, UT Southwestern and Texas Health Resources (THR) announced the creation of Southwestern Health Resources, an integrated health care network designed to bring together the complementary strengths of each organization.
The new network, which is expected to launch in the spring of 2016, will include UT Southwestern's new William P. Clements Jr. University Hospital. This innovative, state-of-the-art facility opened in December, 2014, and in its first year of operation was nearly three years ahead of projections in patient volume and financial performance. The network also includes UT Southwestern's Zale Lipshy University Hospital, as well as THR's Texas Health Presbyterian Hospital Dallas and 24 other THR community hospitals throughout North Texas.
"This new network – and the other alliances we are forming – broaden UT Southwestern's clinical capacity, amplify our world-class research capabilities, and expand our educational offerings to ensure that physicians and caregivers are fully prepared for the future of medicine," said Dr. Daniel K. Podolsky, President of UT Southwestern.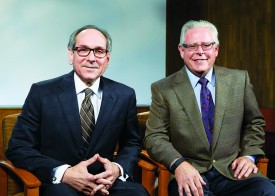 "As we looked ahead and evaluated our strategic approach, it became clear that this collaboration with Texas Health Resources would be the most efficient and financially responsible way to ensure that the patients of North Texas and the broader region have access to high-quality, high-value primary and specialized care."
The hospitals that comprise Southwestern Health Resources will span a broad geographical territory encompassing 16 Texas counties. The network will include physicians from UT Southwestern and THR, as well as physicians in selected affiliated independent practices that embrace the practices and data-driven quality measures used by UT Southwestern and THR.
For patients, the new network will translate into improved access to primary and specialty care at facilities that can best serve their needs.
"Both organizations share a strong commitment to improving well-being and providing the best possible care for patients at every stage of their life's journey," said Barclay Berdan, Chief Executive Officer of THR. "We expect the new network will help improve quality and enhance affordability during a time when patients, insurers, and other payers are increasingly sensitive to health care costs. But most importantly, this supports our shared mission of improving the health of the people in the communities we serve."
The Clinical Components of New Integrated Network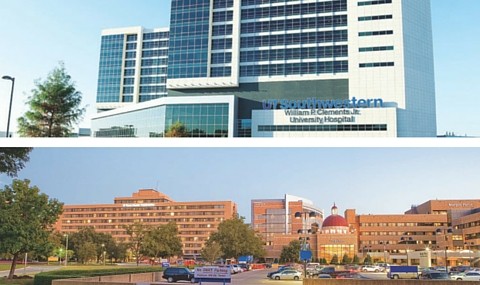 While maintaining independent ownership of existing facilities and resources, and under the direction of an equitable, 50/50 shared leadership structure between UT Southwestern and THR, the new network includes:
Integrated Continuum of Physician-Driven Care: An integrated physician network to coordinate and integrate the efforts of the more than 3,000 participating physicians. The network will encompass UT Southwestern faculty physicians, the community-based physicians in our UT Southwestern Clinically Affiliated Physicians (UTSCAP) program, physicians in the Texas Health Physicians Group (THPG), and under certain circumstances, independent physician groups affiliated with either UT Southwestern or THR.
Integrated Hospital Network: An integrated hospital network to focus on delivering coordinated care through UT Southwestern's two university hospitals and THR's Texas Health Presbyterian Hospital Dallas and 24 community hospitals in the region. A key component of this network will be a new joint operating company to bring together the three Dallas hospitals (Clements, Zale Lipshy, and Presbyterian) under the oversight of a UT Southwestern-appointed leader.
Population Health Services Company: A population health services company to provide the necessary people, technology, and infrastructure to support both the physician network and the hospital network to achieve universal quality standards, deliver seamless care to patients across the care continuum, and provide the analytics and support necessary to be successful at population health management.
Academic Affiliation: Stronger academic affiliations that further research and educational opportunities. The expanded patient population will enhance opportunities for both clinical and translational research. It also will create more training opportunities for medical students, residents, and fellows. As part of this broad affiliation, THR will be providing significant support to enable UT Southwestern to pursue academic initiatives, including the establishment of a new center dedicated to population health research.
"With all of these components, we believe we have a roadmap for achieving the objectives of a robust health care system able to respond and live up to the expectations that are evolving from all stakeholders," said Dr. Podolsky.
Network to Benefit Education and Research Missions
Although the origins of the UT Southwestern-THR partnership are in the clinical arena, the network will provide exceptional educational opportunities for students and residents. It also will pave the way for significant expansion of research opportunities. This includes allowing more patients to participate in UT Southwestern's unique clinical trials, and enabling researchers to engage in studies to improve health practices, optimize health care delivery, and tailor treatments to individual needs.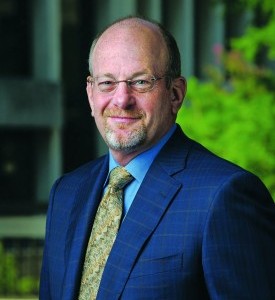 "What I am most excited about from the faculty and academic side is that there will be a considerable investment that goes along with this partnership that allows us to think about questions in terms of population health, health services and costs, and health disparities," said Dr. J. Gregory Fitz, Executive Vice President for Academic Affairs and Provost, and Dean of UT Southwestern Medical School. "These are important academic imperatives as well as health care imperatives, and represent opportunities for expansion."
What the new network will not do is alter the long-standing relationships and commitments that UT Southwestern has built over decades with its other partners, including Parkland Memorial Hospital, Children's Medical Center Dallas, and the Dallas Veterans Affairs Medical Center.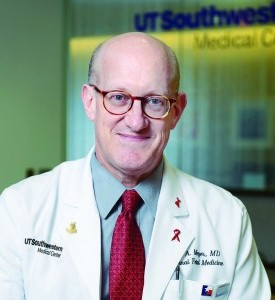 In addition, the network will not utilize any state funds provided to UT Southwestern. Although UT Southwestern is a state institution, neither its state appropriation nor funds provided by the UT System to UT Southwestern are used in direct support of its clinical facilities or services.
"We have collectively made remarkable progress in the growth of the UT Southwestern health system, and even more important, in our quality and safety programs," said Dr. Bruce Meyer, Executive Vice President for Health System Affairs. "The formation of Southwestern Health Resources will allow us to build on that foundation for the benefit of the UT Southwestern community and the entire population of North Texas."
Growth Through Other Alliances
Although the UT Southwestern-THR initiative represents a major step in achieving growth through alliances, it follows several other successful joint efforts.
For example, the UT Southwestern health system expanded through the creation of the UT Southwestern Clinically Affiliated Physicians (UTSCAP) program, which links community physicians with the faculty practice and resources of UT Southwestern. The Medical Center also recently established the UT Southwestern Accountable Care Network (UTSACN), a new accountable care organization involving UTSCAP.
To broaden our geographical reach, in recent years, UT Southwestern has launched community clinics in Las Colinas, Richardson/Plano, and the Park Cities, along with a satellite of the Harold C. Simmons Comprehensive Cancer Center in the UT Southwestern Moncrief Cancer Institute in Fort Worth. Further expansion is planned with the development of an ambulatory clinic in Frisco and a multispecialty facility (as the first phase of development) of the UT Southwestern Monty and Tex Moncrief Medical Center at Fort Worth.
Maintaining Our Priorities as We Grow

As UT Southwestern expands, safety and quality remain top priorities, as evidenced by recent recognitions.
Clements University Hospital received a national Rising Star Quality Leadership award from the University HealthSystem Consortium (UHC) for its quality and safety efforts. The award recognizes significant improvements in ranking in the UHC's annual Quality and Accountability Study, which identifies exemplary performance in patient safety, mortality, clinical effectiveness, and equity of care among more than 300 academic medical center hospitals. UT Southwestern now ranks within the top 20 nationwide.
UT Southwestern hospitals also were recognized by Press Ganey, a national consulting firm specializing in health care performance. In 2015, Zale Lipshy University Hospital received its third consecutive Pinnacle of Excellence Award, which recognizes patient satisfaction, physician engagement, and quality, along with a Guardian of Excellence Award, a nationally recognized symbol of achievement in health care that honors organizations that have sustained performance in the top 5 percent of all Press Ganey clients over a year's period in clinical quality, patient experience, employee engagement, or physician engagement. Press Ganey partners with more than 11,000 health care facilities, including more than half of all U.S. hospitals, to measure and improve patient experience, and presents the Beacon Awards to about 40 organizations.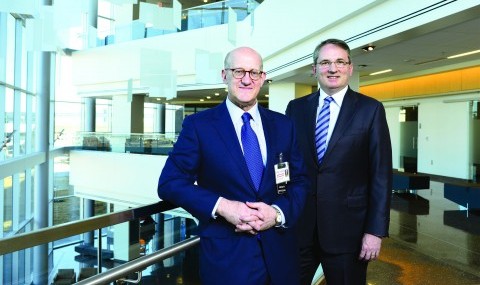 "The hospital and physician networks created offer not only the opportunity to maintain our steady focus on quality, safety, and efficiency for our hospitals, but to broaden that commitment, geographically and through the collection of better data on which to base ongoing improvement," said Dr. John Warner, Vice President and Chief Executive Officer of UT Southwestern University Hospitals and Professor of Internal Medicine.
"Our ambition and our commitment as an academic medical center is to ensure we remain at the frontiers of science and medicine," Dr. Podolsky said. "We do that by dedicating ourselves to excellence and innovation in patient care, enhancing our abilities in basic, translational, and clinical research, and ensuring that those we train have the diversity of experience and exposure to adapt to the evolving future of health care. The integrated network we announced with Texas Health Resources in 2015 – and the other alliances we're forming – represent vital avenues to deliver on that promise."
###
Dr. Fitz holds the Nadine and Tom Craddick Distinguished Chair in Medical Science, and the Atticus James Gill, M.D. Chair in Medical Science.
Dr. Meyer holds the T.C. Lupton Family Professorship in Patient Care, in Honor of Dr. John Dowling McConnell and Dr. David Andrew Pistenmaa.
Dr. Podolsky holds the Philip O'Bryan Montgomery, Jr., M.D. Distinguished Presidential Chair in Academic Administration, and the Doris and Bryan Wildenthal Distinguished Chair in Medical Science.
Dr. Warner holds the Jim and Norma Smith Distinguished Chair for Interventional Cardiology, and the Audre and Bernard Rapoport Chair in Cardiovascular Research.