Graduates participate in hooding ceremony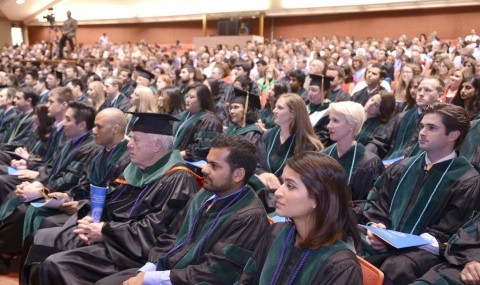 Members of the 2015 graduating class of UT Southwestern Medical School gathered in the Tom and Lula Gooch Auditorium for the academic hooding ceremony, an event that now stands alone from the evening commencement ceremonies.
Dr. Gary Reed, Headmaster of the six Academic Colleges, and Associate Dean for Quality, Safety, and Outcomes Education, presided over the May 27 event on the UT Southwestern Medical Center campus. The graduates, with friends, family, and loved ones looking on, were honored in their respective colleges by the Masters of the Colleges, and hooded in most cases by their respective College mentors.
"The hooding ceremony is a symbolic acknowledgment by the faculty to students who have attained a certain level of scholarly achievement," said Dr. Reed, who is also Professor of Internal Medicine and of Surgery. "Certainly, the Class of 2015 deserves that honor. I can assure that some of the leaders in education tomorrow, in research and patient care, are sitting in front of us today."
Dr. Dennis Burns, Professor of Pathology and among the most-honored educators at UT Southwestern, presented the hooding address.
Dr. Burns asked the graduates to consider three of the many things that have impacted his life since he graduated from medical school 37 years ago. His points were:
Gratitude – "All of you are experiencing a moment of deep gratitude today that this leg of your journey is finally over," Dr. Burns said, "and there is also a significant feeling of gratitude that you must feel to the people who provided you the support to complete the challenging journey through medical school."
Growth – "Medicine is a lifelong journey," he said, "one that you are really beginning today. The practice of medicine is both exhilarating and profoundly humbling, and there has never been a single day in my professional life that I haven't learned something completely new."
Community – "It comes to us in many forms," Dr. Burns said, "but today you are joining a very special community – the medical profession – one of the finest of human endeavors. Cherish and respect your membership in that community. Embrace it, and conduct yourselves in a way that brings honor to it. Support your professional colleagues in that journey, and if you find yourself facing difficult challenges, never be too proud or too embarrassed to ask for support from your trusted colleagues."
Fewer than 10 members of the Class of 2015 were absent from the afternoon ceremony, and one, Caitlin Crumm, hobbled across the stage on crutches to be hooded by her mentor, Dr. Beth Brickner, Professor of Internal Medicine.
empty seat, draped in the academic regalia of Dr. Erwin Thal, Professor of Surgery, who passed away in late 2014 and whom, the program stated, "was admired and beloved by students."
###
Dr. Burns holds Jane B. and Edwin P. Jenevein, M.D. Chair in Pathology.
Dr. Reed holds the S.T. Harris Family Distinguished Chair in Internal Medicine, in his honor; the Sinor/Pritchard (Katy Sinor and Kay Pritchard) Professorship in Medical Education Honoring Donald W. Seldin, M.D.; and the Eva A. Rosenthal Professorship in Internal Medicine, in his honor.