Saluting our newest doctors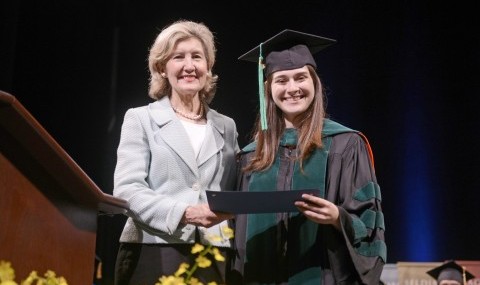 Faculty members of UT Southwestern Medical School joined family and friends of the Class of 2015 on May 27 to salute the school's newest doctors.
The Margot and Bill Winspear Opera House, in the Arts District of downtown Dallas, was the commencement site for nearly 240 students who first came to UT Southwestern Medical Center in the summer of 2011. They left the opera house carrying diplomas that signify their Doctor of Medicine degrees. Several also will receive Doctoral degrees on May 28 from the UT Southwestern Graduate School of Biomedical Sciences.
Dr. Daniel K. Podolsky, President of UT Southwestern, presided over the Medical School event, welcoming the audience and introducing William H. McRaven, Chancellor of the UT System, who delivered the commencement address.
The Honorable Kay Bailey Hutchison, who served Texas in the U.S. Senate from 1993 to 2013 and represented Southwestern Medical Foundation at commencement, presented Dr. Laurie Seidel with the 2015 Ho Din Award. The award was created by the Foundation in 1943, and is the top prize annually for a graduating medical student who displays outstanding knowledge, wisdom, and compassion. Ho Din recognition includes a certificate, a gold key charm, and an award of $10,000.
Dr. Seidel's acceptance of the Ho Din produced perhaps the evening's most memorable moment. As she exited the stage, her father, Dr. Jack Seidel, a member of the UT Southwestern Class of 1987, bolted from the ranks of the faculty seated on stage and hugged his daughter as the crowd applauded. The elder Dr. Seidel serves UT Southwestern as a Clinical Professor of Pediatrics.
Degrees were conferred by Wallace L. Hall Jr. of Dallas, a member the UT System Board of Regents, who, along with Dr. Podolsky, greeted the graduates as they were introduced by Dr. J. Gregory Fitz, Executive Vice President for Academic Affairs and Provost, and Dean of the Medical School.
Dr. James Walton, President of the Dallas County Medical Society, administered the physician's oath to the new doctors.
###
Dr. Fitz holds the Nadine and Tom Craddick Distinguished Chair in Medical Science, and the Atticus James Gill, M.D. Chair in Medical Science.
Dr. Podolsky holds the Philip O'Bryan Montgomery, Jr., M.D. Distinguished Presidential Chair in Academic Administration, and the Doris and Bryan Wildenthal Distinguished Chair in Medical Science.