Kathleen Bell, M.D., Traumatic Brain Injury and Stroke Research
Research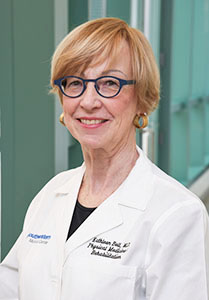 2017-2022 90DPTB0013-01-00 NIDILRR, North Texas TBI Model Systems. (PI: Driver, Co-PI: Bell).
The TBIMS is a multi-center longitudinal database focused on long-term outcomes for TBI.
Site Project: Efficacy of evidence-based intervention for weight loss after TBI.
Module Project: (Juengst) PST For Caregivers of Persons with TBI in Inpatient Rehabilitation.
Module Projects: (Sites) ACCELER8, Health Literacy after TBI
2019 to 2021 1R34AG061304-01A1 Bell, K (Co-PI, 0.5 FTE) NIA
Impact of aerobic exercise on aging brain in TBI
This is a planning grant for a proposed multicenter study examining the effects of exercise on cognition in older persons with TBI and the use of an electronic coach in maintaining compliance with a supervised program
2017-2022 Microtransponder Inc.
A pivotal randomized study assessing vagus nerve stimulation (VNS) during rehabilitation for improved upper limb motor function after stroke (VNS-REHAB) Bell K, Site PI.
No grant number, Continuing Internal Grant Cullum, M. (PI)
1-1-2015 to present
TIBIR
CON-TEX: North Texas Youth Concussion Registry.
Role: Investigator
Currently unfunded: Autonomic nervous system and cerebrovascular function after concussion. Previously funded by TIBIR. Co-Investigator. Site of research: Southern Methodist University. Co-I: Sushmita Purkayastha, PhD.